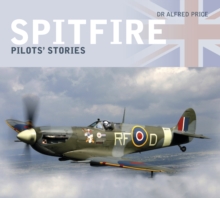 Spitfire: Pilots' Stories
Paperback / softback
Description
The adventures of some sixty pilots and ground crewmen who flew or worked on the Spitfire during the Second World War. The Spitfire was perhaps the most successful fighter design of all time.
It remained at the forefront of its genre from the biplane era until well into the jet age, a period including the Second World War, which saw a faster rate of technological advance than in any comparable period in history.
Yet the Spitfire was more than just a superb flying machine.
During the war it carved a unique place in the psyche of the British people, and many believe it played a major part in saving the nation from defeat during the grim days of 1940. When Spitfire at War first appeared in 1974 it enjoyed critical acclaim as one of the first detailed accounts of a much-loved plane.
It was followed by two further volumes, all three of which were hailed as classic works on the subject.
In Spitfire: Pilot's Stories, Dr Alfred Price condensed his three acclaimed books into one, bringing the story together in the form of many pilots' memories and recollections of flying this iconic aircraft.
This gripping collection of pilots' stories and evocative photographs reveals what it was like to fly the world's most famous aircraft, undoubtedly the finest fighter of the Second World War.
Information
Format: Paperback / softback
Pages: 192 pages, 150 Illustrations, black and white
Publisher: The History Press Ltd
Publication Date: 05/10/2018
Category: Second World War
ISBN: 9780750987844