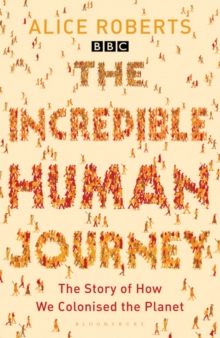 The Incredible Human Journey
Paperback
Description
Alice Roberts has been travelling the world - from Ethiopian desert to Malay peninsula and from Russian steppes to Amazon basin - in order to understand the challenges that early humans faced as they tried to settle continents.
On her travels she has witnessed some of the daunting and brutal challenges our ancestors had to face: mountains, deserts, oceans, changing climates, terrifying giant beasts and volcanoes.
But she discovers that perhaps the most serious threat of all came from other humans.
When our ancestors set out from Africa there were already two other species of human on the planet: Neanderthal in Europe and Homo erectus in Asia.
Both (contrary to popular perception) were intelligent, adept at making tools and weapons and were long adapted to their environments.
So, Alice asks, why did only Homo sapiens survive? Part detective story, part travelogue, and drawing on the latest genetic and archaeological discoveries, Alice examines how our ancestors evolved physically in response to these challenges, finding out how our colour, shape, size, diet, disease resistance and even athletic ability have been shaped by the range of environments that our ancestors had to survive. She also relates how astonishingly closely related we all are.
As a lecturer in Anatomy at Bristol University, Alice Roberts is eminently qualified to write this book.
As a talented artist, she is perfectly qualified to illustrate it, and dotted throughout this lively book are many of the sketches and photographs from her travels.
Information
Format: Paperback
Pages: 384 pages, Colour Inserts
Publisher: Bloomsbury Publishing PLC
Publication Date: 01/04/2010
Category: Popular science
ISBN: 9781408802885
Free Home Delivery
on all orders
Pick up orders
from local bookshops
Reviews
Showing 1 - 1 of 1 reviews.
Review by vguy
16/06/2015
Fresh and fun. Presents human origins as an ongoing enquiry rather than set of facts. As a doctor herself, able to grapple with the controversies and the multiple disciplines (genetic, anatomical, linguistic, carbon and other dating techniques) while bringing it to life for the reader. also has fun travelling and meeting people whether scientists or hunter-gatherers. gives some space to the multi-origin thesis (beloved of the Chinese state), though it makes little sense to me and was part of what Darwin already set out to disprove. Taken as audio book read by author; her enthusiasm comes across.Seems a tad more optimistic about hunter gatherer survival than Sara Walker. Hangs out with them in several continents.