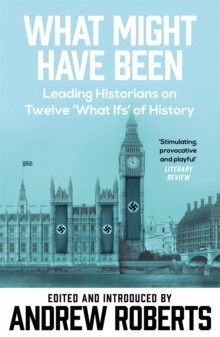 What Might Have Been? : Leading Historians on Twelve 'What Ifs' of History
Paperback
Description
A dozen star historians on what might have happened at history's turning points if the dice had fallen differently.Throughout history, great and terrible events have often hinged upon luck. Andrew Roberts has asked a team of twelve leading historians and biographers what might have happened if major world events had gone differently?
Each concentrating in the area in which they are a leading authority, historians as distinguished as Antonia Fraser (Gunpowder Plot), Norman Stone (Sarajevo 1914) and Anne Somerset (the Spanish Armada) consider: What if?Robert Cowley demonstrates how nearly Britain won the American war of independence.
In her first publication since her acclaimed GEORGIANA, Amanda Foreman muses on Lincoln's Northern States of America and Lord Palmerston's Great Britain going to war, as they so nearly did in 1861.
Whether it's Stalin fleeing Moscow in 1941 (Simon Sebag Montefiore), or Napoleon not being forced to retreat from it in 1812 (Adam Zamoyski), the events covered here are important, world-changing ones.
Information
Format: Paperback
Pages: 208 pages
Publisher: Orion Publishing Co
Publication Date: 05/05/2005
Category: General & world history
ISBN: 9780753818732
Free Home Delivery
on all orders
Pick up orders
from local bookshops
Reviews
Showing 1 - 2 of 2 reviews.
Review by john257hopper
16/06/2015
I am always fascinated by the concept of conterfactual views of history, but this is a mixed bag. Some were good, like the successful Spanish Armada, successful Gunpowder Plot, Charles I winning the civil war and the alternative American civil war where the North fights against not only the South but Britain and France as well. However, in some of them, the point of divergence was not entirely clear and in some cases, the argumentation confusing, e.g. the one where the Archduke Franz Ferdinand survives assassination. I found some of the developments of future history implausible, e.g. Russia developing into the world's major prosperous liberal democracy purely because of the assassination of Lenin in April 1917; and Molotov taking over as Soviet leader after the execution of Stalin in 1941 for fleeing Moscow, and being the iron strong leader of his country until the date of his real death in 1986. Also, some of them were perhaps tinged with the political assumptions of their authors such as Simon Heffer's view of the course taken by a Heseltine-led Conservative Government after Mrs Thatcher is killed in the Brighton bombing. And David Frum's portrayal of President Gore's reaction to 9/11 falls into the same category, though it is written in a rather tongue-in-cheek style.
Review by ABVR
16/06/2015
The "alternate history" subgenre encompasses everything from straight fiction (like Robert Harris's <i>Fatherland</i>) to straight non-fiction (like Robert Cowley's <i>What If?</i> series). This slender volume by Andrew Roberts covers the spectrum. Anne Somerset's essay on the conquest of England by the Spanish Armada is <i>faux</i> history written from within the alternate timeline it describes, as is Roberts' on what Russia might have been like had Lenin been assassinated in 1917. Simon Montefiore's reimagining of the siege of Moscow in 1941 is fiction (complete with imagined characters and dialogue) written the same way. Conrad Black's essay on the consequences of the Japanese <i>not</i> attacking Pearl Harbor recounts the Roosevelt administration's "back-door" aid to Britain (which created, he argues, a <i>de facto</i> state of war between the US and Germany) and projects how it might have evolved had the Japanese not intervened. David Frum's brief sketch of President Al Gore and his cabinet dealing with the 9/11 attacks is outright, unrepentant political satire rather than serious history. <i>What Might Have Been</i> is noteworthy for that eclecticism, and also for its authors' choices of turning points. There are a few old chestnuts here – the Armada conquers England, Britain backs the Confederacy in the Civil War – but many more that will be new even to veterans of the genre: What if Franz Ferdinand had survived assassination in 1914? What if Stalin had fled Moscow in 1941? What if Margaret Thatcher, who survived an IRA bombing of her hotel in 1984, had died instead? The book is also noteworthy, however, for its (mostly British) authors' implicit assumption that readers will have an intimate knowledge of modern European – specifically British – political history. That's not an <i>unreasonable</i> assumption, especially for a book published in UK for British audiences, but it can make some of the essays slow going for American readers.If your last European history course was a long time ago, by all means give the book a try . . . but keep your favorite search engine handy, or give yourself permission to say: "You know what? I, personally, don't <i>care</i> whether Charles I won the English Civil War," and move on to the next essay.