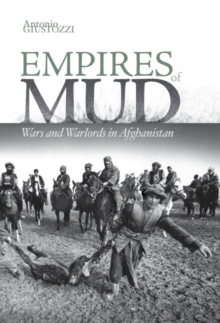 Empires of Mud : Wars and Warlords in Afghanistan
Hardback
Description
Warlords are charismatic military leaders who exploit weak central authorities in order to gain control of sub-national areas.
Notwithstanding their bad reputation, warlords have often participated in state formation.
In Empires of Mud Giustozzi analyses the dynamics of warlordism in Afghanistan within the context of such debates.
He approaches this complex task by first analysing aspects of the Afghan environment that might have been conductive to the fragmentation of central authority and the emergence of warlords and then accounts for the emergence of warlordism in the 1980s and subsequently.
He accounts for the phenomenon from the 1980s to today, considering Afghanistan's two foremost warlords, Ismail Khan and Abdul Rashid Dostum, and their political, economic, and military systems of rule.
Despite the intervention of Allied forces in 2001, both of these leaders continue to wield considerable power.
The author also discusses Ahmad Shah Massoud, whose 'system' incorporated elements of rule not dissimilar from that of the warlords.
Giustozzi reveals common themes in the emergence of warlordism, particularly the role of local military leaders and their gradual acquisition of 'class consciousness,' which over time evolves into a more sophisticated, state-like, or political party-like, structure.
Information
Format: Hardback
Pages: 320 pages, Illustrations, unspecified
Publisher: C Hurst & Co Publishers Ltd
Publication Date: 01/01/2009
Category: Asian history
ISBN: 9781850659327
Other Formats
Paperback / softback from £27.89
Also by Dr. Antonio Giustozzi | View all