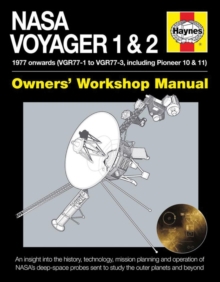 NASA Voyager 1 & 2 Owners' Workshop Manual : 1977 onwards (VGR77-1 to VGR77-3, including Pioneer 10 & 11)
Hardback
Description
In 1977, NASA sent two probes Voyager 1 and Voyager 2 & to study the planets in Earth's outer solar system including Jupiter, Saturn, Uranus, Neptune and Pluto.
Each probe carried a range of scientific instruments, sending data back to Earth.
The programme's primary mission was completed in 1989, with a close fly-by of Neptune by Voyager 2.
Humanity has recently reached an important milestone, as Voyager 1 officially crossed the border where our solar system ends, and is heading into the depths of outer space.
Voyager 2 will soon follow, and as the craft continue their epic journeys, their discoveries will be transmitted to Earth until their power reserves are exhausted, around 2025.
The probes will then become ambassadors from Earth carrying sites and sounds of human culture into the cosmos.
This manual provides a fascinating insight into the Voyager programme, illustrated with a wealth of photographs and technical illustrations, and presents a guide to the golden discs attached to each probe; explaining how these time capsules of human culture were created, and how an alien race might one day decode them, to read their secrets from Earth.
Information
Format:Hardback
Pages:200 pages, 300 Illustrations, unspecified
Publisher:Haynes Publishing Group
Publication Date:05/08/2015
Category:
ISBN:9780857337757
Also by Dr Christopher Riley