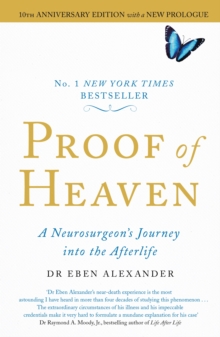 Proof of Heaven : A Neurosurgeon's Journey into the Afterlife
Paperback
Description
THE #1 NEW YORK TIMES BESTSELLING ACCOUNT OF A NEUROSURGEON'S OWN NEAR-DEATH EXPERIENCE.Internationally acclaimed neurosurgeon Dr Eben Alexander always considered himself a man of science.
His unwavering belief in evidence-based medicine fuelled a career in the top medical institutions of the world.
But all this was set to change. One morning in 2008 he fell into a coma after suffering a rare form of bacterial meningitis. Scans of his brain revealed massive damage. Death was deemed the most likely outcome. As his family prepared themselves for the worst, something miraculous happened.
Dr Alexander's brain went from near total inactivity to awakening.
He made a full recovery but he was never the same. He woke certain of the infinite reach of the soul, he was certain of a life beyond death.
In this astonishing book, Dr Alexander shares his experience, pieced together from the notes he made as soon as he was able to write again.
Unlike other accounts of near-death experiences, he is able to explain in depth why his brain was incapable of fabricating the journey he experienced.
His story is one of profound beauty and inspiration.
Information
Format: Paperback
Pages: 208 pages
Publisher: Little, Brown Book Group
Publication Date: 23/10/2012
Category: Memoirs
ISBN: 9780749958794
Free Home Delivery
on all orders
Pick up orders
from local bookshops
Reviews
Showing 1 - 1 of 1 reviews.
Review by Lilac_Lily01
16/06/2015
This book is about a Neurosurgeon's near death experience who wrote this book for people who want to believe in a life after death but haven't been able to fully believe in it. The author says that he was a skeptic himself and always dismissed it when his own patients would tell him about their out of body experiences while in a coma or other near death condition. Only when he contracted bacterial meningitis and spend 7 days in a coma was he able to fully understand what other patients before him discovered: there is a consciousness outside of our bodies. Dr. Alexander shares his vivid experience with the reader and because he is a neurosurgeon he uses his medical knowledge to analyze the scientific implications of his out of body experience. His conclusion is simple yet profound: there is a GOD and death does not mean the end of our existence. A very interesting and touching book!