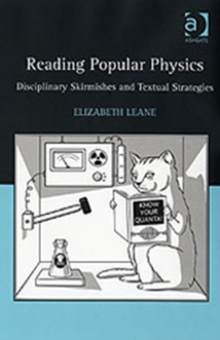 Reading Popular Physics : Disciplinary Skirmishes and Textual Strategies
Hardback
Description
Reading Popular Physics is a valuable contribution to our understanding of the nature and implications of physics popularizations.
A literary critic trained in science, Elizabeth Leane treats popular science writing as a distinct and significant genre, focusing particularly on five bestselling books: Stephen Hawking's A Brief History of Time, Steven Weinberg's The First Three Minutes, James Gleick's Chaos, M.
Mitchell Waldrop's Complexity, and Gary Zukav's The Dancing Wu Li Masters.
Leane situates her examination of the texts within the heated interdisciplinary exchanges known as the 'Science Wars', focusing specifically on the disputed issue of the role of language in science.
Her use of literary analysis reveals how popular science books function as sites for 'disciplinary skirmishes' as she uncovers the ways in which popularizers of science influence the public.
In addition to their explicit discussion of scientific concepts, Leane argues, these authors employ subtle textual strategies that encode claims about the nature and status of scientific knowledge - claims that are all the more powerful because they are unacknowledged.
Her book will change the way these texts are read, offering readers a fresh perspective on this highly visible and influential genre.
Information
Format: Hardback
Pages: 208 pages
Publisher: Taylor & Francis Ltd
Publication Date: 28/05/2007
Category: Literary studies: from c 1900 -
ISBN: 9780754658504
Also by Dr. Elizabeth Leane