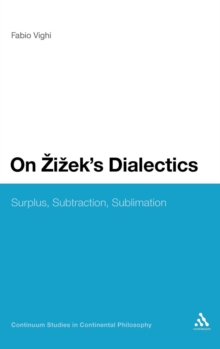 On Zizek's Dialectics
Hardback
Description
On Zizek's Dialectics explores the theoretical and practical potential of the psychoanalytic method deployed by Slavoj Zizek by investigating its epistemological implications within our contemporary capitalist universe.
The book begins by evaluating Zizek's account of the capitalist ideology of enjoyment through the analysis of Lacan's critique of Marx's surplus-value.
If the originality of Zizek's wager lies in the claim that enjoyment secretly sustains our ideological space, can we think of surplus-jouissance in a way that not only unmasks the ruse of capitalism but also adumbrates the construction of an alternative social space?
The answer to this question is developed in the second part of the book.
Arguing that the transformative potential of Zizek's epistemology needs to be fully unravelled if it is to avoid the risk of congealing into mere academic exercise, Fabio Vighi attempts to politicise Zizek's groundbreaking critical method by calling upon the necessity to translate its emphasis on the indigestible surplus of knowledge into the drive to think the new.
Under the current conditions, this creative moment can no longer be delayed.
Information
Format: Hardback
Pages: 196 pages, black & white illustrations
Publisher: Continuum Publishing Corporation
Publication Date: 10/06/2010
Category: Non-Western philosophy
ISBN: 9780826464439
Other Formats
Paperback / softback from £31.45
Also in the Continuum Studies in Continental Philosophy series | View all