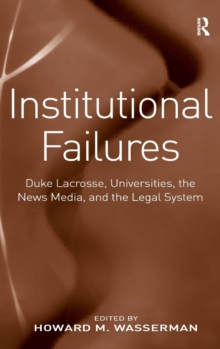 Institutional Failures : Duke Lacrosse, Universities, the News Media, and the Legal System
Hardback
Description
The authors of this new collection argue that the many features of the now-infamous Duke University men's lacrosse controversy are best understood in the context of the three major socio-legal institutions in which the drama played out.
The legal system, Duke University, and the news media all struggled to respond to and handle the case, tinged as the events were with race, sex, violence, class, privilege, and notions and perceptions about sports.
The problems, missteps, mistakes, and injustice in the case resulted from each institution's failure to operate properly, from the incentives built into each institution that affected individual behavior, and from the inability of each institution to communicate and cooperate with the others.
To understand the Duke lacrosse controversy is to study these institutions and to answer questions about the performance of each-to learn what each did right and wrong and why, and to consider how each can improve in the future.
By examining the actions of these institutions and the individuals within them, these essays consider the role each played in the case, how each contributed to the crisis and to its resolution, the ways in which they interacted with one another, and the lessons this case teaches about the appropriate functioning of each institution.
Information
Format: Hardback
Pages: 222 pages
Publisher: Taylor & Francis Ltd
Publication Date: 28/01/2011
Category: Ethnic studies
ISBN: 9780754678731