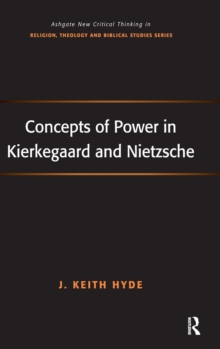 Concepts of Power in Kierkegaard and Nietzsche
Hardback
Description
The name Friedrich Nietzsche has become synonymous with studies in political power.
The application of his theory that the vast array of human activities comprises manifestations of the will to power continues to influence fields as diverse as international relations, political studies, literary theory, the social sciences, and theology.
To date, the introduction of SAren Kierkegaard into this discussion has been gradual at best.
Long derided as the quintessential individualist, the social dimension of his fertile thought has been neglected until recent decades. This book situates Kierkegaard in direct dialogue with Nietzsche on the topic of power and authority.
Significant contextual similarities warrant such a comparison: both severely criticized state Lutheranism, championed the self and its imaginative ways of knowing against the philosophical blitzkrieg of Hegelianism, and endured the turbulent emergence of the nation-state.
However, the primary justification remains the depth-defying prescience with which Kierkegaard not only fully anticipates but rigorously critiques Nietzsche's power position thirty years in advance.