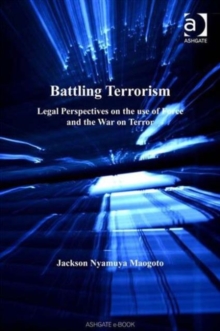 Battling Terrorism : Legal Perspectives on the use of Force and the War on Terror
Hardback
Description
The attacks of September 11, 2001, the US response and the international community's approval of the subsequent military action represent a new paradigm in the international law relating to the use of force.
Previously, acts of terrorism were seen as criminal acts carried out by private, non-governmental entities.
In contrast, the September 11 attacks were regarded as an act of war which marked a turning point in international relations and law. This exceptional and timely volume examines the use of force in the war against terror.
The work is based on the central theme that the use of force is visibly enrolled in a process of change and it evaluates this within the framework of the uncertainty and indeterminacy of the UN Charter regime.
The status of pre-emptive self-defence in international law and how it applies to US policy towards rogue states is examined along with the use of military force, including regime change, as an acceptable trend in the fight against state-sponsored terrorism.
Information
Format: Hardback
Pages: 218 pages
Publisher: Taylor & Francis Ltd
Publication Date: 12/09/2005
Category: Politics & government
ISBN: 9780754644071