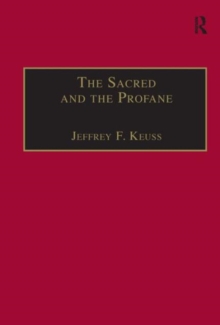 The Sacred and the Profane : Contemporary Demands on Hermeneutics
Hardback
Description
Hermeneutics continues to be an area of interest to many, yet recent discussions in hermeneutic theory have turned toward fringe areas - whether found in realms of post-structuralism or radical orthodoxy - that have resulted in a 'forgetfulness' of one of hermeneutics' key thinkers, Immanuel Kant. This book seeks to reaffirm Kant's place as a central thinker for hermeneutics and to challenge and support prevailing criticisms.
It has been argued that Kant merely offers a theory of the subjective universality of a rational aesthetic judgement where only reason connects us to the transcendent and sensation is only a subjective and confusing factor that distracts and distorts reason. This position is challenged as well as supported by the contributors to this book, scholars who bring key issues in hermeneutics to light from American, British, and continental perspectives, grounded in questions and concerns germane to today's culture.
The discussion of hermeneutics is framed as being deliberately an interdisciplinary, cross-cultural affair. The Sacred and the Profane provides a welcome addition to contemporary discussions on hermeneutic theory through its assertion that there is still a need to support a critical approach to hermeneutics after Kant.
Information
Format: Hardback
Pages: 144 pages
Publisher: Taylor & Francis Ltd
Publication Date: 28/04/2003
Category: Philosophy of religion
ISBN: 9780754607670