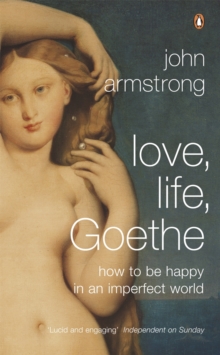 Love, Life, Goethe : How to be Happy in an Imperfect World
Paperback
Description
Is it possible to be truly happy? In an imperfect world, how can we live well with what we have, and accept what we don't have? In Love, Life, Goethe, John Armstrong looks at the life of the renowned yet often misunderstood writer Goethe to show the surprising ways in which we can learn from him, whether in love, suffering, friendship or family.
He shows how relevant Goethe is to the way we live today, and how he wanted (much the same as us) to live life well.
From work to our relationships to money and success, John Armstrong explores the main themes of our existence through Goethe, and helps us learn how to live.
Information
Format: Paperback
Pages: 512 pages, Illustrations, ports.
Publisher: Penguin Books Ltd
Publication Date: 26/04/2007
Category: Literary studies: c 1500 to c 1800
ISBN: 9780141011288
Free Home Delivery
on all orders
Pick up orders
from local bookshops
Reviews
Showing 1 - 1 of 1 reviews.
Review by phollando
16/06/2015
I once had a conversation with my father about Goethe (not the usual father/son talk I'll grant you) and he said something along the lines of "I'm not much a fan of Goethe, I must admit. He was too much of an establishment figure. I prefer the Voltaires of this world". I couldn't help but think that surely that's what most people believe. Goethe, for me, offers something different; he shows that it is possible to live a proper life, to work 9-5 and then still write poetry and prose that rank amongst the greatest European literary achievements."Mozart: no idea about money, pauper's grave; his friends had to take money away from him because he was so irresponsible; Balzac: dressed as a monk, drank 40 cups of coffee a day, economic basket case; Baudelaire: drug addict , compulsive gambler, squandered his inheritance; Wagner: insanely egoistic, borrowed from all his friends, never paid his debts; Tolstoy: wanted to be a penniless serf; Nietzsche: didn't make a penny from his writing, later royalties went to his horrible sister; Proust: didn't know how to open a window or boil a kettle, lost lots of money through extravagance and inept speculation; Wittgenstein: tormented ('If just one person could understand me I would be satisfied'), ate mainly bread and cheese, gave away all his money -- to his rich siblings so as not to corrupt the poor; Jackson Pollock: everyone else made money out of him 'If I'm so famous why ain't I rich?')"Goethe is an unusual hero, he didn't die young, he led a professional life in the court of Weimar, he was financially solvent and yet these things did not stop his artistic creativity. Goethe offers a vision of balance and hope to anyone frustrated by the toil of daily life as it is not the limit of what you can achieve.