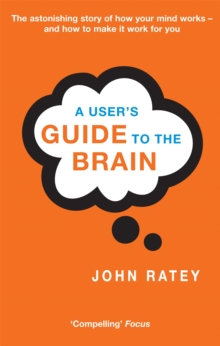 A User's Guide to the Brain
Paperback
Description
Bringing order and relevance to the cascade of recent brain findings, Dr John Ratey explains the brain's most important systems, the role they play in determining how we interact with the world and ways in which we can influence their operations for the better. Throughout, he illustrates his points with vivid and often surprising examples drawn from his own practice, research and everyday life.
Ratey answers such compelling questions as: What does it mean to be linguistically ambidextrous?
How does a mother's cradling of her child on her left shoulder relate to the development of language skills? Why does listening to music while doing homework improve accuracy? Why do people like spicy foods? He also analyses the ways in which things can go wrong, detailing causes and treatments for diseases such as autism, Parkinson's and Alzheimer's, as well as numerous neurological disorders. As Dr. Ratey demonstrates throughout the book, the brain is astonishingly flexible, able to be retrained and reprogrammed. Like a muscle, it responds to use, adapting to new demands and conditions, allowing, as the title of the book suggests, the guidance of the user.
Information
Format: Paperback
Pages: 416 pages, Illustrations
Publisher: Little, Brown Book Group
Publication Date: 05/06/2003
Category: Popular science
ISBN: 9780349112961
Free Home Delivery
on all orders
Pick up orders
from local bookshops
Reviews
Showing 1 - 1 of 1 reviews.
Review by Shiva
16/06/2015
Excellent book.It's a mature book from a mature writer. It's organized, fairly to the point, and has not of the personal rhetoric that plagues many writers of this field. A lot of these books tend to have writers that want to spout off their personal crap without proper finding/or half decent research to back it up. Ratey usually stops before too much of his opinions start to effect what he was really trying to say.There are a lot of new information even for a reader like me who reads a lot of these types of materials. I was especially intrigued by the researches into the motor functions, memories and learning. The parts about language learning in the brain also helped to reinforce some of my ideas about language learning.(since I have taught ESL part time for nearly 10 years) I had some indications/ideas that motor functions effects learning and memories, but I never knew that it was this much.I would say that this is a level up book from books like "Mind, Wide Open", since we are introduced to more technical jargons/research, but it's still in plain enough writing for us to understand. It also opened my eyes to other possibilities of psychological problems, such as perception. Frankly, as wanna be student of psychology, I am ashamed to say that I didn't think a Vision problem can contribute that much to a person's psyche. It helped me organized some ideas that I had about the brain, and it also challenged some of my beliefs on psychology.All in all, an excellent book. I would recommend it. Use it or Lose it!