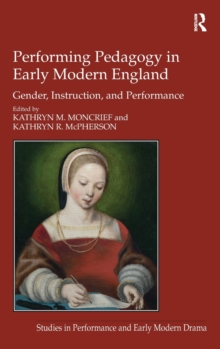 Performing Pedagogy in Early Modern England : Gender, Instruction, and Performance
Hardback
Description
Performing Pedagogy in Early Modern England: Gender, Instruction, and Performance features essays questioning the extent to which education, an activity pursued in the home, classroom, and the church, led to, mirrored, and was perhaps even transformed by moments of instruction on stage.
This volume argues that along with the popular press, the early modern stage is also a key pedagogical site and that education"performed and performative"plays a central role in gender construction.
The wealth of sixteenth- and seventeenth-century printed and manuscript documents devoted to education (parenting guides, conduct books, domestic manuals, catechisms, diaries, and autobiographical writings) encourages examination of how education contributed to the formation of gendered and hierarchical structures, as well as the production, reproduction, and performance of masculinity and femininity.
In examining both dramatic and non-dramatic texts via aspects of performance theory, this collection explores the ways education instilled formal academic knowledge, but also elucidates how educational practices disciplined students as members of their social realm, citizens of a nation, and representatives of their gender.
Free Home Delivery
on all orders
Pick up orders
from local bookshops