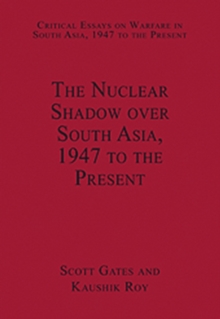 The Nuclear Shadow over South Asia, 1947 to the Present
Hardback
Description
This collection of seminal articles illustrates the reasons for the spiraling nuclear race in the Asian subcontinent and introduces the principal debates in the field.
Authors discuss whether the acquisition of nuclear weapons by the South Asian powers has raised the likelihood of a nuclear war in the subcontinent or reduced the chance of a conventional war breaking out.
They examine whether a small nuclear arsenal or a nuclear triad, as declared by India, is suitable for bringing stability to the region, as well as the risk of an accidental nuclear conflagration.
The first section charts the evolution of nuclear programmes on the basis of realpolitik, and the second section analyses nuclear policies on the basis of religious and cultural ethos.
A few essays turn the spotlight on the role of external powers in accelerating, decelerating and mediating the ongoing nuclear tension between India and Pakistan.
Also by Dr. Kaushik Roy