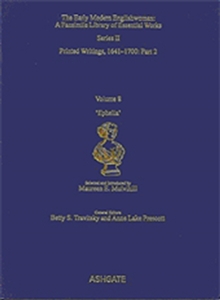 'Ephelia' : Printed Writings 1641-1700: Series II, Part Two, Volume 8
Hardback
Description
This facsimile edition reproduces the extant works of the seventeenth-century poet, 'Ephelia'.
By tradition, the identity of 'Ephelia' has been a long-contested debate in English letters.
In her extended Introductory Note, Maureen Mulvihill culls evidence from the 'Ephelia' texts and from contemporary sources to show that the most likely candidate is Mary Villiers, later Stuart, Duchess of Richmond and Lennox (1622-1685). The volume opens with the reproduction of A Poem To His Sacred Majesty, On the Plot... (1678) from the copy held at the Bodleian Library. This is a large broadsheet poem prompted by The Popish Plot, expressing support for King Charles II.
A new addition to the corpus of 'Ephelia's work is a variant of this 1678 parent-text, displaying a woodcut printer's ornament (factotum, with inset typepiece 'H'), which may hold special significance.
This volume reproduces the copy preserved at the Huntington Library, and supplies with the facsimile an enlarged image of the ornament. Female Poems on several Occasions (1679) offers a rich variety of material: political verse, excerpted material from the poet's 'lost' play, love poetry and coterie verse critical of the moral decline of the Stuart court.
The copy of the book reproduced here is that preserved at the Folger Shakespeare Library. The final printed work in the volume is Advice To His Grace ([1681]) in which 'Ephelia' admonishes the Duke of Monmouth and advocates the purity of the Stuart line and the integrity of the Stuart succession.
The copy reproduced here is preserved at the Beinecke Library. The volume concludes with three appendices: two Van Dyck portraits of Lady Mary Villiers; a signed manuscript elegy, preserved at Nottingham, with an enlarged image of its armorial watermark; and the title-page of the poet's Female Poems (1682).
Information
Format: Hardback
Pages: 160 pages
Publisher: Taylor & Francis Ltd
Publication Date: 28/04/2003
Category: Poetry by individual poets
ISBN: 9780754608394