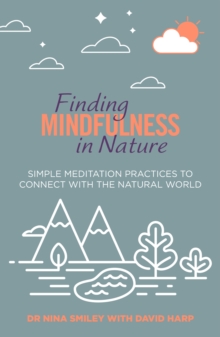 Finding Mindfulness in Nature : Simple Meditation Practices to Help Connect with the Natural World
Paperback / softback
Description
Mindfulness experts Dr Nina Smiley and David Harphave created a simple little book that provides meaningful ways to nurtureourselves through meditation and a connection with the outdoors whether it bein the city or in the countryside. Each mindful practice featured is inspired by quotes from dozens ofnotable authors, philosophers and poets such as Emily Dickinson, Lao Tzu,Aristotle, William Blake and Charles Dickens on the important themes of nature,spirituality, simple beauty and joyful living.
This book is for anyone, novice or expert to help them explore theremarkable opportunities for personal growth available through a deeper, morefulfilling relationship with the natural world gained through easy accessiblemeditation practices.
More than just a walk in the woods, Finding Mindfulness inNature is a carefully crafted and deliberate approach to achievebetter health and well-being and is ideal for all ages.
Information
Format: Paperback / softback
Pages: 192 pages
Publisher: Trigger Publishing
Publication Date: 19/03/2020
Category: Self-help & personal development
ISBN: 9781789561791