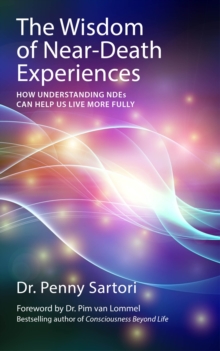 The Wisdom of Near-death Experiences : How Understanding Ndes Can Help Us Live More Fully
Paperback
Description
This book investigates the wide range of near-death experiences (NDEs) of patients that Penny Sartori has encountered during her nursing career, as well as the hundreds of cases of people who have reached out to her over the years.
Many people take NDEs at surface value and are misinformed about the full extent of this highly complex phenomenon.
Dr Sartori argues that, by pathologising the NDE, we are missing out on vital insights that can empower us to live fulfilled and meaningful lives.
Dr Sartori does not offer superficial physiological or psychological explanations for why these experiences take place.
Rather, the crucial point of this book is that NDEs undoubtedly occur and have very real, often dramatic, and life changing aftereffects.
Further to that, the wisdom gained during the NDE can be life enhancing and have hugely positive effects on those who don't have an NDE - all we have to do is take notice of and hear what these people have to say.
A greater understanding of NDEs can not only enhance the way in which we care for dying patients, but also revolutionise our current worldview. This book encourages readers to take notice of and incorporate the wisdom and powerful messages of NDEs into their own lives.
Information
Format: Paperback
Pages: 256 pages
Publisher: Watkins Media
Publication Date: 16/01/2014
Category: Reincarnation & past lives
ISBN: 9781780285658
Free Home Delivery
on all orders
Pick up orders
from local bookshops
Reviews
Showing 1 - 2 of 2 reviews.
Review by maureen21
16/06/2015
Many years of research into near death experiences(NDE'S) have gone into this book, not only that, but it was carried out by a member of the medical profession. Someone well used to being around patients who have had cardiac arrests etc. There are some really interesting case studies from those who have had such experiences. It usually has a profound impact on those people, leaving many of them with the feeling that death is nothing to be feared. An interesting read.
Review by biunicorn
27/08/2015
The Wisdom of Near-Death ExperiencesHow Understanding NDEsCan Help Us Live More Fullyby Dr. Penny SartoriI learned so much reviewing this 236 page labor of love. Clinical accounts, documented research and much needed info the author Was able to take the running messages through out NDEs and show us how they all connected to bring us a pathway to healthy spiritual living right here and now. There is a lot here to help us and I would recommend this blessed teacher to anyone wanting more in depth information on NDEs. Thanks Dr. Penny, for breaking it down for us.Love & Light,Riki Frahmann
Also by Dr. Penny Sartori