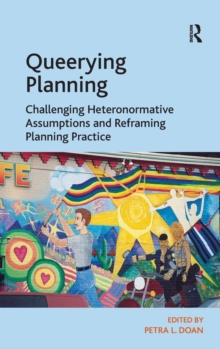 Queerying Planning : Challenging Heteronormative Assumptions and Reframing Planning Practice
Hardback
Description
Current planning practices have largely neglected the needs of the Lesbian, Gay, Bisexual, and Transgender (LGBT) community for safe urban spaces in which to live, work, and play.
This volume fills the gap in the literature on the planning and development of queer spaces, and highlights some of the resistance within the planning profession to incorporate gay and lesbian concerns into the planning mainstream.
Planning lags behind other disciplines concerned with queer urban issues.
In contrast, the field of geography has developed a rich sub-specialty in the geographies of sex and gender that examines spaces and the variety of non-heteronormative populations that inhabit them.
This volume brings together both planners and geographers with experience in planning to examine some of the fundamental assumptions of urban planning as they relate to the LGBT community. The first few chapters are substantial revisions and expansions of earlier influential work on planning for non-conformist populations and the preservation of LGBT neighborhoods.
Subsequent chapters comprise original contributions that draw on the rich literature from queer theory, planning theory and the geography of sexualities to explore the ways that nonconformist populations struggle with heteronormative expectations embedded in planning theory and procedures.
These chapters consider the intersection of planning and a range of populations including transgendered and gender variant individuals.
Subsequent chapters examine the ways that variations in the scale of urban and regional governance influence local politics around the implementation of more equitable policies at the city level.
In addition, several chapters critically examine the implications of using the tolerance component of Richard Florida's "creative cities" arguments.
The final section consists of two chapters that explore the ways that urban planning regimes have been used to regulate sexually-oriented businesses and the way this regulation of sexualized spaces has implications on the heteronormativity of plans and planners. In summary, these chapters interrogate planning practice and pose questions for academic and professional planners about the ways that the queer community and its needs for spaces have shifted.
What do those changes mean for the practice of planning 40 years after the North American Stonewall rebellion and looking forward to the next 40 years?
To what extent does existing planning practice constrain the evolution of queer communities or seek to commercialize such spaces to the benefit of large developers and the detriment of marginalized members of the community?
How might planning practice change to provide more direct support to the evolution of queer people and the spaces in which they live? This volume draws on these insights as well as the experiences of the various authors to lay out possible future directions for the field of planning to create truly inclusive urban areas.
Information
Format: Hardback
Pages: 294 pages
Publisher: Taylor & Francis Ltd
Publication Date: 20/09/2011
Category: Gender studies, gender groups
ISBN: 9781409428152
Free Home Delivery
on all orders
Pick up orders
from local bookshops