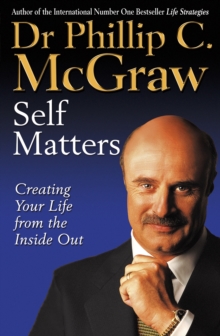 Self Matters : Creating Your Life from the Inside Out
Paperback
Description
All of a sudden, while in the middle of conducting a therapy session, the psychologist thought to himself: 'Has anybody noticed that this crap doesn't work?' He looked at the couple in front of him and realised that what he was telling them about the 'nature of relationships' wasn't going to help them at all.
The psychologist decided then and there to throw away the textbook theories, stop dispensing ineffectual advice and to 'get real'.
Fifteen years later, the psychologist, Dr Phil, has several bestsellers under his belt and has helped hundreds of thousands of people to change their lives for the better.
Now he tackles the issue of self esteem which he considers to be one of the greatest problems affecting people today.
All too frequently we use self-esteem - or the lack of it - as a crutch, not as a quality to develop.
In SELF MATTERS, he takes a straight shot at this favourite excuse of low self esteem, proposing a new plan; a new way to become your best self.
It is time to say goodbye to the nagging fears that keep so many of us from fulfilling our potential.
With his new programme, Dr Phil will show people how to get in the game and how to make self esteem about one's possibilities, not one's problems.
Free Home Delivery
on all orders
Pick up orders
from local bookshops
Reviews
Showing 1 - 2 of 2 reviews.
Review by wyvernfriend
16/06/2015
Interesting ideas. Will have to think about a lot of the ways of change he proposes.
Review by ablueidol
16/06/2015
Change yourself and change the world. True up to a point and if it gets you out of a poor marriage, bad job etc then go for it. The real test is making the bad marriage work or accepting that's poor is what you have to settle for as nothing is perfect. Can't say I found the book useful. It's along the line of those programmes that sell your house such as House Doctor. No matter the house the advice is the same. Declutter, think the buyer wants to project themselves into the house, make it light and feel roomy etc. This says be honest with yourself and others. Be authentic. Take responsibility! Never really deals with that failure may because you are not up to it or because you are not going to succeed while in that job with that boss and you cant get another job. Guess for me the question is what do you do when you have to face that life is a f****p some times and no being positive is going to change that?Oh I should add I Love the show but then I am still suffering withdrawal symptoms from the only national radio agony phone in ( say like in Sleepless in Seattle) with Anna Raeburn which went off the air 10 years ago!
Also by Dr. Phil McGraw