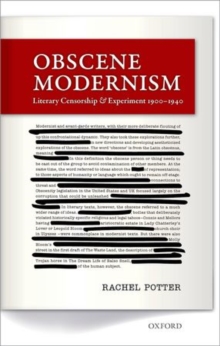 Obscene Modernism : Literary Censorship and Experiment 1900-1940
Hardback
Description
During the period 1900-1940 novels and poems in the UK and US were subject to strict forms of censorship and control because of their representation of sex and sexuality.
At the same time, however, writers were more interested than ever before in writing about sex and excrement, incorporating obscene slang words into literary texts, and exploring previously uncharted elements of the modern psyche.
This book explores the far-reaching literary, legal and philosophicalconsequences of this historical conflict between law and literature.
Alongside the famous prosecutions of D. H. Lawrence's The Rainbow and James Joyce's Ulysses huge numbers of novels and poems were altered by publishers and printers because of concerns about prosecution.
Far from curtailing thewriting of obscenity, however, censorship seemed to stimulate writers to explore it further.
During the period covered by this book novels and poems became more experimentally obscene, and writers were intensely interested in discussing the author's rights to free speech, the nature of obscenity and the proper parameters of literature.
Literature, seen as a dangerous form of corruption by some, was identified with sexual liberation by others.
While legislators tried to protect UK and US bordersfrom obscene literature, modernist publishers and writers gravitated abroad, a development that prompted writers to defend the international rights of banned authors and books.
While the period 1900-1940 was one of the most heavily policed in the history of literature, it was also the time when theparameters of literature opened up and writers seriously questioned the rights of nation states to control the production and dissemination of literature.
Information
Format: Hardback
Pages: 242 pages
Publisher: Oxford University Press
Publication Date: 22/08/2013
Category: Literary studies: from c 1900 -
ISBN: 9780199680986
Free Home Delivery
on all orders
Pick up orders
from local bookshops