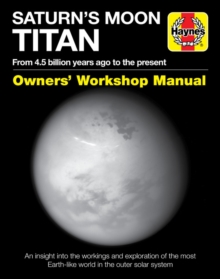 Saturn's Moon Titan : From 4.5 billion years ago to the present
Hardback
Description
Titan is a moon of Saturn, most recently explored by the Cassini/Huygens probes. Titan is of huge interest to scientists, as the conditions in its atmosphere and on its surface bear a striking similarity to those of early Earth.
It is thought that there is a realistic possibility that forms of primitive life could develop - or may already have developed - on the surface or in the oceans of Titan, and so there are plans to send further probes to Titan in order to further explore the conditions on its surface and in its oceans. The theme of the book is how Titan works 'as a planet', with an emphasis on illustrating the features and processes of Titan with familiar analogues and imagery of geographical and geological features on Earth.
The final chapter looks at Titan in practical terms as an environment for humans in the future, bringing the place 'to life', a little in science fiction style, but grounded in fact.
Information
Format:Hardback
Pages:200 pages, 275 Illustrations, unspecified
Publisher:Haynes Publishing Group
Publication Date:20/08/2020
Category:
ISBN:9781785216435
Also in the Owners' Workshop Manual series | View all