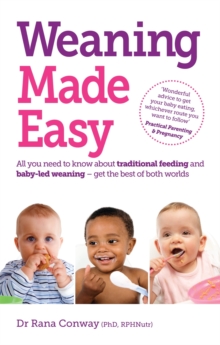 Weaning Made Easy : All You Need to Know About Spoon Feeding and Baby-led Weaning - Get the Best of Both Worlds
Paperback
Description
Baby-led or traditional puree weaning? Should you wean by spoon-feeding or rely on baby-led weaning?
Weaning your baby can be a daunting prospect, and the advice you'll receive is often confusing and contradictory.
Should you follow the traditional method of introducing pureed food, or should you bypass purees altogether and try baby-led weaning with sticks of carrot?
What is best for your baby? With over 18 years as a nutritionist, Dr Rana Conway is here to guide you through this sticky (and messy) subject. With established weaning methods clearly explained including spoon-fed and baby-led weaning, Weaning Made Easy brings you a practical, realistic and down-to-earth approach to weaning, to give you methods that really work.
Weaning Made Easy uses the best of each method, to bring you the most practical and useful weaning advice available.
With mealplans and recipes for each stage, she takes you through your baby's weaning development - from what foods to try (and avoid) in the first six months to moving your baby onto family meals and solid food.
Dr Rana answers all your questions: * When should I start to wean my baby?* Is there a risk of overfeeding my baby if I use traditional weaning? * Is my baby likely to miss out on important nutrients if I use baby-led weaning? * What do I do if my child keeps throwing up his food? * My child keeps choking - should I stop trying baby-led weaning?
Weaning Made Easy supports you throughout the whole weaning process, and includes honest, reassuring accounts of other mums' weaning experiences with their babies or toddlers.
It will give you the confidence to get through the journey from purees and milk to solid food.
This is your complete handbook to Weaning. Made easy. Also available; the accompanying recipe book Weaning Made Easy Recipes.
Information
Format: Paperback
Pages: 256 pages
Publisher: Crimson Publishing
Publication Date: 14/10/2011
Category: Pregnancy, birth & baby care
ISBN: 9781905410699
Free Home Delivery
on all orders
Pick up orders
from local bookshops
Reviews
Showing 1 - 1 of 1 reviews.
Review by presto
16/06/2015
A brief overview of the contents:Part One considers the basics of weaning, when to start and what your baby can and can't eat. It also discusses how to wean your baby looking at two different approaches.Part Two goes through the different stages of weaning from the first tastes of solids to when baby is eating virtually to same as you. It looks at what you can expect from your baby and what and how you should be feeding him, it also includes sample feeding plans and recipes.Part Three provides practical advice on handling problems such as fussy eaters, allergies, constipation and anaemia and more. It also covers premature babies and offers guidance for vegetarian diets.Rather than taking a rigid didactic approach it tends towards presenting and explaining the options, considering the pros and cons, leaving the reader to come to his own informed decisions.The book is well laid out and the information very clearly presented without any graphic gimmicks. Frequently helpful Tips are offered highlighted in boxes on the relevant page, and there are tips from other parents about what worked for them. The text is very readableThere is a great deal of sound, useful and very practical advices contained here, but it is offered as suggestions rather than rules, leaving parents the choice to employ what works for them without making anyone feel guilty about those choices. In addition it provides reassurances on may of the worries that parents will inevitability have regarding feeding.This should prove a very valuable aid to parents, and with so much information it could never be too soon to start looking.
Also by Dr. Rana Conway