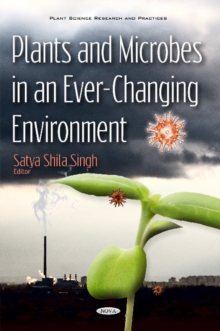 Plants & Microbes in an Ever-Changing Environment
Hardback
Description
The ever-increasing human population, rapid development of industries and human introduction of different xenobiotic compounds have contaminated the three major abiotic environmental factors (i.e., air, water and soil) all over the world.
Contamination of these factors exerts adverse impacts on existing plants and microbes.
Microbes present in the air, water and soil are always exposed to the ever-changing environment and exhibit tremendous variations in their community structure.
However, few environmental alterations have positive and beneficial impacts on microbes.
Plants also show a number of detrimental symptoms such as reduced growth, delayed fruit ripening, altered photosynthesis, rapid leaf fall, early senescence and premature death of seedlings in response to the disintegration of air, water and soil quality.
So, the survival of plants and microbes in these changing environments is under serious threat.
However, it is interesting how plants and microbes, despite their extreme sensitivity to environmental changes, are surviving in these continuously changing environments.
In this respect, a genomic study of plants and microbes may help to understand how they have overcome previous environmental changes because millions of years of natural selection have shaped their genome.
Moreover, this process of acclimation to environmental stresses was further continued through the inheritance of the altered genome of the offspring.
In brief, present-day plants and microbes have obtained the resistance power from their precursors, which they have developed during the course of evolution.
Hence, this book entails the consequences of environmental changes in plants and microbes, and the strategies adapted by them for survival.
Information
Format: Hardback
Pages: 550 pages
Publisher: Nova Science Publishers Inc
Publication Date: 01/05/2017
Category: Botany & plant sciences
ISBN: 9781536109184
Free Home Delivery
on all orders
Pick up orders
from local bookshops