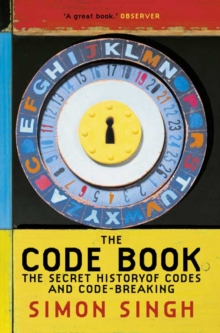 The Code Book : The Secret History of Codes and Code-Breaking
Paperback
Description
The Science of Secrecy from Ancient Egypt to Quantum CryptographyFrom the best-selling author of Fermat's Last Theorem, The Code Book is a history of man's urge to uncover the secrets of codes, from Egyptian puzzles to modern day computer encryptions.As in Fermat's Last Theorem, Simon Singh brings life to an anstonishing story of puzzles, codes, languages and riddles that reveals man's continual pursuit to disguise and uncover, and to work out the secret languages of others.Codes have influenced events throughout history, both in the stories of those who make them and those who break them.
The betrayal of Mary Queen of Scots and the cracking of the enigma code that helped the Allies in World War II are major episodes in a continuing history of cryptography.
In addition to stories of intrigue and warfare, Simon Singh also investigates other codes, the unravelling of genes and the rediscovery of ancient languages and most tantalisingly, the Beale ciphers, an unbroken code that could hold the key to a $20 million treasure.
Information
Format: Paperback
Pages: 416 pages, (90 integrated)
Publisher: HarperCollins Publishers
Publication Date: 02/05/2000
Category: Coding theory & cryptology
ISBN: 9781857028898
Free Home Delivery
on all orders
Pick up orders
from local bookshops
Reviews
Showing 1 - 5 of 6 reviews.
Previous | Next
Review by miketroll
16/06/2015
An extremely well-written and thorough account of the history of cryptography right up to the present day. It combines readability with a level of technical analysis that is not senselessly dumbed down for the lay reader. A riveting book.
Review by passion4reading
16/06/2015
Simon Singh provides the reader with an overview of the history of cryptology and brings to the reader's attention events in history that would probably have had different outcomes had it not been for the achievements of some historical figures - mostly unknown to us today - like Thomas Phelippes who deciphered and forged an encrypted message to Mary, Queen of Scots, thereby forcing her to effectively sign her own death warrant, and Marian Rejewski who provided the groundwork on deciphering the Enigma machine before handing his research over to the British; his enthusiasm for the subject shines through at every page. He also aims to set the record straight for a few unsung heroes, mainly from recent history who, due to the secrecy act, were forbidden from publicly claiming credit for their work in cryptology at the time. Most notably amongst them is Alan Turing who helped crack the Enigma cipher, but also Tommy Flowers who single-handedly built Colossus, the precursor to the modern digital computer but who had to destroy the blueprints after the war, as well as Clifford Cocks and Malcolm Williamson who invented the asymmetric cipher and public-key cryptography four years before the Americans but were sworn to secrecy. I also enjoyed his brief foray into the decipherment of ancient texts like the Egyptian hieroglyphics and the Minoan script of Linear B, but Simon Singh's main achievement lies in his ability to bring across such tricky issues like key distribution, public-key cryptography and quantum cryptography in a simple and lucid manner to a mainly non-technically minded person like me. My only criticism and one that has got nothing to do with the author, is the fact that this book was written more than ten years ago when e-commerce was still in its infancy; since then the world has seen a massive leap in terms of financial transactions being conducted over the internet and even seen the arrival of internet banking and with it the need for ever better security for the individual and companies trading over the internet. I would be most interested to read a topical update in which he covers the last ten years and the impact this has had on cryptography.
Review by Julia_Hughes
16/06/2015
Outstanding; this history of codes, and the part codes have played in history, and continue to play in everyday life enthralled even a lay person like me. Mr Singh has authored a non-fiction book that reads like a thrilling mystery.
Review by amarcobio
16/06/2015
Excellent. Engaging and accurate. That's the book you must read if you wanna know how code breaking works.
Review by thorold
27/08/2015
Nice, lightweight popular history of cryptography. I last had a serious go at reading up this subject in the seventies, when the first information about the wartime work on Enigma was beginning to be released. A lot more detail about this has come to light since, so it was time for an update. I found Singh's account entertaining and useful, as far as it went, but it's written for newcomers to the subject, so you have to wade through a lot of background before you get to the real technical detail. (Did we really need a biography of Mary, Queen of Scots and a description of the physical appearance of every scientist mentioned in the book?) Not the best choice for what I wanted, but it would certainly make a very good birthday present for a mathematically-inclined teenager, if you happen to know any of those...