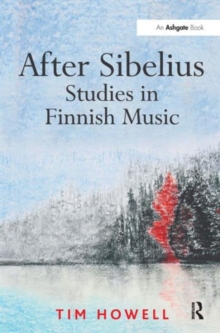 After Sibelius: Studies in Finnish Music
Hardback
Description
During the last twenty years, the rest of the world has come to focus on the music of Finland.
The seemingly disproportionate creative energy from this small country defies prevalent trends in the production of classical music.
Tim Howell provides an engaging investigation into Finnish music and combines elements of composer biography and detailed analysis within the broader context of cultural and national identity.
The book consists of a collection of eight individual composer studies that investigate the historical position and compositional characteristics of a representative selection of leading figures, ranging from the beginning of the twentieth century to the present day.
These potentially self-contained studies subscribe to a larger picture, which explains the Sibelian legacy, the effect of this considerable influence on subsequent generations and its lasting consequences: an internationally acclaimed school of contemporary music. Outlining a particular perspective on modernism, Howell provides a careful balance between biographical and analytical concerns to allow the work to be accessible to the non-specialist.
Each composer study offers a sense of overview followed by progressively more detail.
Close readings of selected orchestral works provide a focus, while the structure of each analysis accommodates the different levels of engagement expected by a wide readership.
The composers under consideration are Aarre Merikanto, Erik Bergman, Joonas Kokkonen, Einojuhani Rautavaara, Aulis Sallinen, Paavo Heininen, Kaija Saariaho and Magnus Lindberg.
The concluding discussion of issues of national distinctiveness and the whole phenomenon of why such a small nation is compositionally so active, is of wide-ranging significance.
Drawing together various strands to emerge from these individual personalities, Howell explores the Finnish attitude to new music, in both its composition and reception, uncovering an enlightened view of the value of creativity from which many other nations may benefit.
Information
Format: Hardback
Pages: 320 pages
Publisher: Taylor & Francis Ltd
Publication Date: 28/11/2006
ISBN: 9780754651772