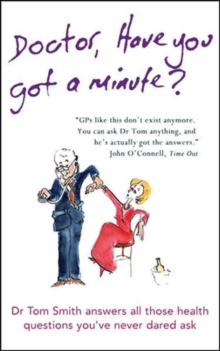 Dr Have You Got a Minute
Hardback
Description
Tom Smith is the doctor you wish you had and he's got all the time in the world...You might make an appointment with your GP to enquire about a persistent cough or a sceptic toe.
But when do you get to ask the questions that you really want the answers to?
All those health mysteries - some trivial, some serious, some downright weird - they are the ones that really matter, the niggling worries which keep you up at night...Will I age at the same rate as my mother?
Could my birthmark be cancerous? Why do women start growing hair on their chins at 35?
Is a man's hand size really a sign of the length of his penis?
This is your chance to corner a doctor at a party and boldly go where no patient has gone before...Dr Tom Smith, gently urbane and seemingly unshockable, answers your questions with a wit and wisdom that sadly your own doctor just never seems to have time for.
Information
Format: Hardback
Pages: 224 pages
Publisher: Short Books Ltd
Publication Date: 05/10/2006
Category: Personal & public health
ISBN: 9781904977797