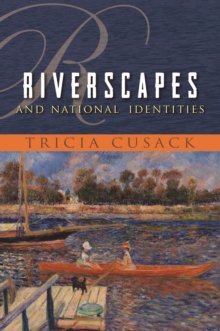 Riverscapes and National Identities
Hardback
Description
Painted riverscapes such as Claude Monet's impressions of the Seine, Isaak Levitan's Volga views, and Thomas Cole's Hudson scenery became iconic not least because they embodied nationalist ideas about place and about culture.
At a time when nationalism was taking root across Europe and the United States, the riverscape played an important role in transforming the abstract idea of the nation into a potent visual image.
It not only offered a picture of a nation's physical character, but also, through aspects such as style, the figures portrayed, and the nature of the implied spectator, it presented a cultural ideal.
In this highly original book, Tricia Cusack explores the significance of painted riverscapes for the creation of national identities in nineteenth- and early twentieth-century Europe and America.
Focusing on five rivers - the Hudson, the Volga, the Seine, the Thames, and the Shannon - the author shows how just as ancient river mythologies served the ends of powerful religious and political groups, modern riverscapes incorporated dominant, often religious conceptions of the nation.
Drawing on the symbolic potential of rivers to represent life and time, the riverscape provided a metaphor for the mythic stream of national history flowing unimpeded out of the past and into the future.
Free Home Delivery
on all orders
Pick up orders
from local bookshops