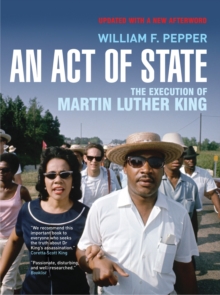 An Act of State : The Execution of Martin Luther King
Paperback
Description
Martin Luther King Jr was the most powerful and eloquent champion of the poor and oppressed in US history, and at the height of his fame in the mid-sixties seemed to offer the real possibility of a new and radical beginning for liberal politics in the USA.
In 1968, he was assassinated; the movement for social and economic change has never recovered.The conviction of James Earl Ray for his murder has never looked even remotely safe, and when William Pepper began to investigate the case it was the start of a twenty-five year campaign for justice.
At a civil trial in 1999, supported by the King family, seventy witnesses under oath set out the details of the conspiracy Pepper had unearthed: the jury took just one hour to find that Ray was not responsible for the assassination, that a wide-ranging conspiracy existed, and that government agents were involved."An Act of State" lays out the extraordinary facts of the King story - of the huge groundswell of optimism engendered by his charismatic radicalism, of how plans for his execution were laid at the very heart of government and the military, of the disinformation and media cover-ups that followed every attempt to search out the truth. As shocking as it is tragic, "An Act of State" remains the most compelling and authoritative account of how King's challenge to the US establishment led inexorably to his murder
Information
Format: Paperback
Pages: 344 pages, Illustrations
Publisher: Verso Books
Publication Date: 26/03/2008
ISBN: 9781844672851
Free Home Delivery
on all orders
Pick up orders
from local bookshops
Reviews
Showing 1 - 1 of 1 reviews.
Review by jensenmk82
16/06/2015
Interesting evidence and an intriguing theory, but very poorly organized, on certain details weakly supported and lacking in sources that can be produced, and presented in a writing style that can only be described as wretched. Pepper's garbled prose sometimes makes it hard to know what he is claiming. For a lawyer, there is a surprising sloppiness and inattention to detail (his editor and publisher share the blame) and his attempts to write narrative prose are inept. He inflates the potential of the Poor People's Campaign that King was organizing in 1968 and ignores the many significant challenges to King's leadership that he was facing at the end of his life in what seems to be an attempt to make his theory more plausible. His very alarmist 2008 afterword is also sloppy; e.g. it calls the 2002 Maher Arar case, which surfaced in late 2003 "the most famous recent case" of rendition and ignores the substantial pushback that has occurred. However, Pepper has pursued this case with great courage and deserves the gratitude of citizens.