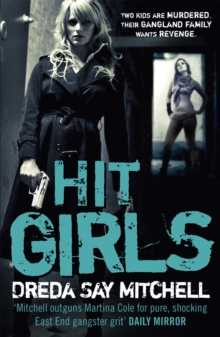 Hit Girls : Gangland Girls Book 3
Paperback
Part of the Gangland series
Description
Two kids are murdered...Their gangland family want revenge.Ten-year-old twin sisters are murdered outside their school.
But they aren't just anyone's kids, they're gangster Stanley Lewis' daughters.
When a rival gangster is arrested Stanley vows to take revenge.
But his dad, feared villain Kenny Lewis, thinks there's more going on.
So he contacts the one group of people who he trusts to help him find the truth...Jackie, Anna, Roxy and Ollie.
Four women with shady pasts who take the cases people don't take to the cops.
They enter a world of easy sex and even easier violence where everyone, including the Lewis family, are hiding secrets.
Then Jackie's son, a friend of the dead girls, disappears.
Information
Format: Paperback
Pages: 400 pages, n/a
Publisher: Hodder & Stoughton General Division
Publication Date: 18/08/2011
Category: Thriller / suspense
ISBN: 9780340993224
Free Home Delivery
on all orders
Pick up orders
from local bookshops
Reviews
Showing 1 - 2 of 2 reviews.
Review by scuzzy
16/06/2015
I have enjoyed Martina Cole's books now and again over the years, a strangely successful mix of female stubbornness clashing with East End crime which has resulted in some of the most graphically violent and disturbing novels I have read. So when I picked up this book and Cole herself has praised the writing of Mitchell I just had to read it, the question being could someone really write in the same genre and be as good/successful at it?For the greater part of the book, yes, it was on a par with Cole and I found it gripping to read, however, and as is the case with a lot of crime fiction, the hero or heroine seems to take on an almost invincible, Superman type aura which is probably far from the truth, but then, what would I know about the crime world?Twin sisters are literally mowed down outside their school, and a third boy is badly injured as the vehicle speeds away...the girls are the daughters of the local crime kingpin, Stan Lewis, the boy the son of Jackie and 'Schoolboy', seemingly reformed gangsters and so starts a battle of words and bodies as a mix of investigation and revenge hits the streets.The story follows the same old premise of control of the streets and in this case it was obvious that suspicion would fall onto an up-and-coming rival and the same old 'shoot first, ask questions later' mentality takes place while the Police are powerless (as usual) to do anything.Meanwhile, a misfit foursome of girls (one being the mum of the injured boy, one being an ex-African mercenary, one being an old tranny) do their own investigation into the killings which of course turns up more information than any Police force is capable of...even the all-powerful gangster Stan Lewis hasn't got these contacts and just beats the living shit out of everyone...this is where the story slowly started dying a painful death for me.The whole way through Mitchell drops hints at who the possible killer is with witnesses and informers, but in an amateurish methodology she closed off each with each lead being killed off in any gruesome method that took her fancy. The ending is a myriad of surprises, some coming completely out of left field, others blatantly obvious from the outset, however to me it seemed such a huge revelation that it was immediately unbelievable and completely wasted what had been a pretty good book until then.Unfortunately I can't rate Mitchell anywhere near being in the same field as Cole and to this extent I again question the (endless!!!) plaudits Mitchell feels obliged to print all over her book (from memory the first three pages are just self-satisfying reviews) whether anyone had actually read it before commenting...While nowhere near as bad as my favourite punching bag, Richard Laymon, I normally do the writer some justice in at least reading another book in case I had stumbled upon an off-day, however in seeing her other titles I don't think I will be searching out another Mitchell book.
Review by poonamsharma
16/06/2015
Book was a page-turner and I read it all in one sitting. Setting is well done, principal characters well-etched. Plot develops well. Only thing is that the gang, which is investigator, to the novel was hardly useful to its client to 'solve' something. The murder mystery would have worked just fine without the weight of the gang solving it for somebody else. The literary device of connecting the gang to Lewis family and investigating 'for them' is bit too lame. It seems they needn't have done anything to investigate, their client seemed to have enough of his information. Their investigation was always by chance. <br/><br/>As an aside, Jackie's character was confusing, though sort of understandably like most women would be in her position, on the subject of Schoolboy gunning for who hurt his boy. On on hand, she wants him to be 'man' to avenge her son's murder attempt on the other she does not really want him to go back to his old gang ways. Otherwise, story was well-written.