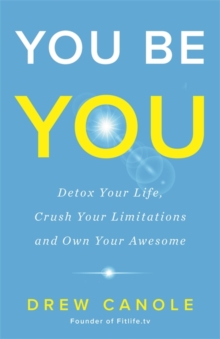 You Be You : Detox Your Life, Crush Your Limitations and Own Your Awesome
Paperback / softback
Description
'To truly transform your life - mind, body and soul - you must be willing to put in the work.
I've seen Drew Canole put in the work for years to get to where he is, and this book will guide you to overcome your limitations as well.' - Lewis Howes, New York Times bestselling author of The School of GreatnessGet ready to seek more, be more and do more.
In this book, transformation specialist Drew Canole shows that no matter where you've been or where you are right now, there are tools you can implement to live fully, healthily and happily.
Drew himself has overcome insane obstacles - from a painful childhood spent in foster care, to being bullied, to an unhealthy relationship with food that resulted in gaining 40 pounds, to finally breaking through and harnessing his personal power to achieve incredible success!
Drew will take you on a three-part journey to detox from external expectations, identify and transcend your self-limiting beliefs and recognize your unique potential and power.
You'll shift from your current perspective to a new, more enlightened mindset that includes surrender, trust, self-honesty, meditation, positive intention and kindness towards yourself and others. And the result? A life aligned with true purpose, meaning and incredible amounts of awesomeness.
Other Formats
EPUB from £8.38
Hardback from £11.75