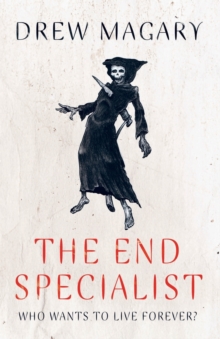 The End Specialist
Paperback
Description
A gripping, compulsive thriller set in a future where the cure for ageing has been discovered... to devastating consequences"You got me. I don't want to die. I'm terrified of death. I fear there's nothing beyond it and that this existence is the only one I'll ever possess.
That's why I'm here."(An excerpt from the digital journal of John Farrell, cure age 29)2019.
Humanity has witnessed its greatest scientific breakthrough yet: the cure for ageing.
Three injections and you're immortal - not bulletproof or disease-proof but you'll never have to fear death by old age.For John Farrell, documenting the cataclysmic shifts to life after the cure becomes an obsession.
Cure parties, cycle marriages, immortal livestock: the world is revelling in the miracles of eternal youth.
But immortality has a sinister side, and when a pro-death terrorist explosion kills his newly-cured best friend, John soon realizes that even in a world without natural death, there is always something to fear.Now, John must make a new choice: run and hide forever, or stay and fight those who try to make immortal life a living hell.The e-book edition contains exclusive extra content - for those who want to find out even more consequences of the cure for ageing.
Information
Format: Paperback
Pages: 400 pages
Publisher: HarperCollins Publishers
Publication Date: 01/09/2011
Category: Science fiction
ISBN: 9780007429080
Free Home Delivery
on all orders
Pick up orders
from local bookshops
Reviews
Showing 1 - 1 of 1 reviews.
Review by hashford
16/06/2015
Suppose someone invented a cure for aging? Simply turns off the gene that makes you get older? What would that do to us all? What would it do to society?Would people want to stay married for maybe a century or more? What about prisoners sentenced to life behind bars – how long can we keep them there? What would it mean for pensions? And social security payments? What would the church say about it?The questions are endless!Drew Magary takes a long hard look at these questions (and many more) in this incredibly inventive and hard hitting book. The story is presented as the diary (via "life recorder" app) of John Farrell, one of the first people to take "the cure", interspersed with entries from on-line blogs and news reports. It covers a period of 60 years during which John has a "cure age" of 29 but (obviously) ages from 29 to 89 in terms of life experience.It is hard to write a more detailed review without giving away spoilers, so let me just say that this is one of the best books I have read this year. It is hard-hitting, thought-provoking – everything I could ask from a sci-fi novel.