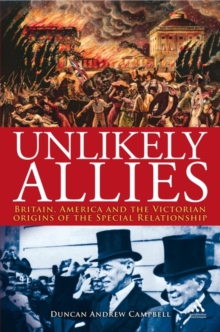 Unlikely Allies : America, Britain and the Victorian Beginnings of the Special Relationship
Hardback
Description
When people speak of the special relationship between the two English-speaking peoples on either side of the Atlantic, they are talking of a phenomenon not much older than Britain's 1904 entente cordial with France.
The very term 'English-speaking peoples' most probably has no earlier pedigree than William Gladstone.For much of the nineteenth-century, Britain and the United States were imperial rivals in the scramble for North America, and their often difficult relationship directly reflected that reality.
That these two nations became friends and allies was never a foregone conclusion until surprisingly late in the century and the rapprochement between them only was only cemented by the First World War.
At the same time, the fact the United States was a former colony and that they therefore shared a common language meant that communication between the two nations differed to that between Britain and its European rivals - something Otto Von Bismarck called the most important fact of the nineteenth century.Starting with the War of 1812 when the United States and Britain found themselves on opposite sides, continuing through prominent and obscure Britons' and Americans' views of each other, the economic and migrant links between the nations, their difficult diplomatic relationship, their later developing friendship and increasing cultural and economic ties and concluding with the First World War, this work describes and analyses the often turbulent and surprising relationship between Britain and the United States in the nineteenth century.
Information
Format: Hardback
Pages: 320 pages, 8 bw illustrations
Publisher: Bloomsbury Publishing PLC
Publication Date: 29/11/2007
Category: British & Irish history
ISBN: 9781847251916
Free Home Delivery
on all orders
Pick up orders
from local bookshops