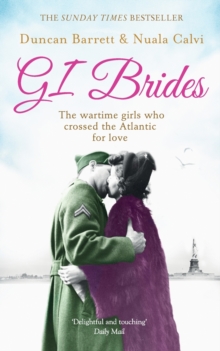 GI Brides : The War-time Girls Who Crossed the Atlantic for Love
Paperback
Description
The Sunday Times bestsellerFrom the bestselling authors of The Sugar Girls, G.I.
Brides weaves together the real-life stories of four women who crossed the ocean for love, providing a moving true tale of romance and resilience.The `friendly invasion' of Britain by over a million American G.I.s caused a sensation amongst a generation of young women deprived of male company during the Second World War.
With their exotic accents, smart uniforms and aura of Hollywood glamour, the G.I.s soon had the local girls queuing up for a date, and the British boys off fighting abroad turning green with envy.But American soldiers offered something even more tantalising than a ready supply of chocolate, chewing gum and nylon stockings.
Becoming a G.I. bride provided an escape route from Blitz-ravaged Britain, an opportunity for a whole new life in America - a country that was more affluent, more modern and less class-ridden than home.Some 70,000 G.I. brides crossed the Atlantic at the end of the war to join the men who had captured their hearts - but the long voyage was just the beginning of a much bigger journey.Once there, the women would have to adapt to a foreign culture and a new way of life thousands of miles away from family and friends, with a man they hardly knew out of uniform.
Some struggled with the isolation of life in rural America, or found their heroic soldier was less appealing once he returned to Civvy Street.
But most persevered, determined to turn their wartime romance into a lifelong love affair, and prove to those back home that it really was possible to have a Hollywood ending.www.gibrides.com
Information
Format: Paperback
Pages: 368 pages
Publisher: HarperCollins Publishers
Publication Date: 29/08/2013
Category: European history
ISBN: 9780007501441
Free Home Delivery
on all orders
Pick up orders
from local bookshops
Reviews
Showing 1 - 2 of 2 reviews.
Review by dark_phoenix54
16/06/2015
When America entered WW 2, many soldiers were sent to England as a staging ground for attacks on the continent. With many British men already fighting in Europe (or wounded or dead), the influx of relatively well paid young GIs found a country full of young women willing to date them. With the threat of battle immanent, both men and women grabbed at happiness and married without knowing each other well at all. When the war ended and the GIs were sent home, their young brides went with them- on separate ships, of course, and with a lot of indignities. What they found when the arrived on US shores wasn't what they'd expected. Calvi's grandmother was one of these GI brides, and she learned Margaret's story not long before her grandmother's death. This led to looking into the lives of other war brides. Four of them; Rae, Margaret, Sylvia and Gwendolyn (Lyn) have their stories shared with us here. One found herself married to an alcoholic who spent every penny he made (and then some) on alcohol, finally becoming abusive. Another married a compulsive gambler with PTSD. One's family didn't take to her at first at all and seemed to deliberately make her life miserable, and she contracted polio on top of that. Another's husband was womanizer. They all had culture shock and found that even the English language wasn't the same in the US as it was in England. The image of America that many had was of relative wealth, and it wasn't always so. Not all the GI brides had horrible marriages; even after rocky starts, some remained happily married for a lifetime. But they all had to be incredibly strong to survive what they did. Some of them were only teenagers when they married and left their homes. I loved this book. Social history is fascinating to me, and I'm glad these stories are being told before that generation dies off. Each chapter is about a different one of the four, going in rounds. I confess that I sometimes had a little trouble with that format; I'd forget what the one I was reading had done in her last couple of chapters. I managed, though; it's not hard to flip back and take a look.
Review by NewsieQ
16/06/2015
GI Brides is not the type of non-fiction I tend to gravitate to. It has no footnotes, no true bibliography, no index. Instead, the author rely on details stories of four women who married American GIs and returned with them to the US after World War II. It smacks more of the tabloid press than of history.That said, sometimes lightweight, dish-y stories (true or not) are just what the doctor ordered. I admit the stories were compelling, if somewhat predictable. Here they are, young women who fall in love with men whose backstories they do not know. In fact, they only know the men they marry in one context – that of war. And they don't know their future in-laws, which turns out to be a key, in many cases, to whether the marriage survives or not.I wish I would have known that one of the authors was the grand-daughter of one of the four featured women. That didn't come out until I read the readers' guide at the end of the book. Overall, GI Brides is a great non-fiction book for people who don't like non-fiction. While reading it, it's easy to forget that it isn't a novel. This was a book I "won" in the Early Reviewers' lottery in June but never received a copy of. I got tired of waiting and checked out the book from my public library.