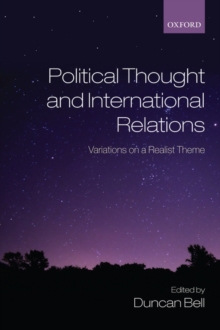 Political Thought and International Relations : Variations on a Realist Theme
Hardback
Description
Political realism dominated the field of International Relations during the Cold War.
Since then, however, its fortunes have been mixed: pushed onto the backfoot during 1990s, it has in recent years retuned to the centre of scholarly debate.
Despite its prominence in International Relations, however, realism plays only a marginal role in contemporary international political theory.
It is often associated with a form of crude realpolitik that ignores the ethical dimensions of political life.
The contributors to this book explore alternative understandings of realism, seeing it as a diverse and complex mode of political andethical theorising rather than simply a "value-neutral" social scientific theory or the unreflective defence of the national interest.
A number of the chapters offer critical interpretations of key figures in the canon of twentieth century realism, including Hans Morgenthau, E.
H. Carr, and ReinholdNiebuhr. Others seek to widen the lens through which realism is usually viewed, exploring the writings of Martin Heidegger, Hannah Arendt, and Leo Strauss.
Finally, a number of the contributors engage with general issues in international political theory, including the meaning and value of pessimism, the relationship between power and ethics, the purpose of normative political theory, and what might constitute political "reality." Straddling International Relations and political theory, thisbook makes a significant contribution to both fields.
Information
Format: Hardback
Pages: 254 pages
Publisher: Oxford University Press
Publication Date: 03/11/2008
Category: Political science & theory
ISBN: 9780199556274
Free Home Delivery
on all orders
Pick up orders
from local bookshops