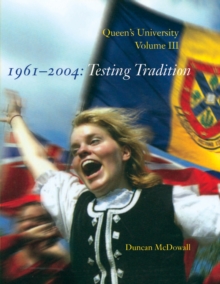 Queen's University, Volume III, 1961-2004 : Testing Tradition
Hardback
Description
Founded in 1841 by a royal charter, Queen's University evolved into a national institution steeped in tradition and an abiding sense of public service.
Propelled initially by its Presbyterian instincts and an attachment to Gaelic culture, Queen's has prospered and adapted over the years to match Canada's ever-changing dynamics.
In this third volume of Queen's University's official history, Duncan McDowall demonstrates that the late twentieth century was a contest between expediency and tradition waged through crisis and careful evolution. Testing Tradition calibrates the durability of Queen's vaunted traditions in the face of shifts in the broader Canadian society.
During this time of massive postsecondary expansion, Queen's grew sevenfold from a small, collegial campus of 3,100 students to a sprawling cosmopolitan place of more than 20,000 students from over 120 countries engaged in undergraduate, graduate, and professional programs.
Measuring Queen's University's responses to concerns over social diversity, human rights, and gender equity through the eyes of its trustees, administrators, students, faculty, and the Kingston community, this volume pays particular attention to the experiences of women and visible minorities at the university. Copiously illustrated with photographs of important people, events, and aspects of campus life, this volume shows how Queen's, in having its traditions tested, has worked to retain the best of its past, while accepting the inevitability of change.
Information
Format: Hardback
Pages: 592 pages
Publisher: McGill-Queen's University Press
Publication Date: 30/06/2016
Category: Society & social sciences
ISBN: 9780773546967
Free Home Delivery
on all orders
Pick up orders
from local bookshops