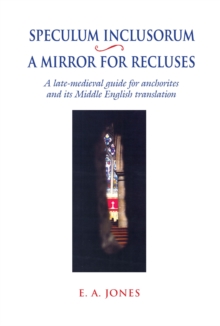 Speculum Inclusorum / A Mirror for Recluses : A Late-Medieval Guide for Anchorites and its Middle English Translation
Hardback
Description
Interest in the anchoritic life in Europe, and medieval England in particular, has never been greater. And yet almost all the recent discussion tends to concentrate on the same texts - De Institutione inclusarum and Ancrene Wisse.
Considerations of gender and anchoritism have been limited by the assumption that the reclusive life was 'a feminine phenomenon' pursued almost exclusively by women.
This critical edition of a late-medieval English 'rule' for male anchorites will be a timely intervention in - and stimulus to - an already exciting field. The Speculum Inclusorum is an early 15th-century Latin rule or guide.
It is notable particularly for the careful attention it gives to discernment and the probation of the prospective anchorite's vocation; for its frank discussion of the temptations and dangers of the reclusive life, including sexual sins; its deep consideration of the anchorite's spiritual life of prayer, meditation and reading; its anticipation of the joys of contemplation that await him; and the ecstatic quality of some of its writing.
The Speculum is a work of considerable interest in its own right.
Within a decade or two of its original composition it was translated into English in order to adapt it for a readership of female anchorites.
This book will give the first opportunity to compare Latin and English versions of the rule, the one intended for male and the other for female anchorites.
It is the first edition since 1913 of this fascinating and important text but the first English-language edition and the first complete English translation to be published.
It will be an important contribution to the ongoing debates about spirituality and religious institutions in the post-Wycliffe, post-Arundel church.
Information
Format: Hardback
Pages: 224 pages
Publisher: Liverpool University Press
Publication Date: 14/11/2013
Category: European history
ISBN: 9780859898850
Also in the Exeter Medieval Texts and Studies series | View all