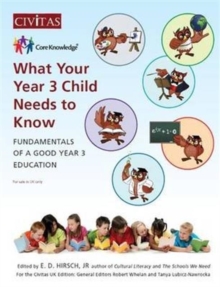 What Your Year 3 Child Needs to Know : Fundamentals of a Good Year 3 Education
Paperback / softback
Description
Designed for parents, teachers and home educators to use with children, this third volume in the Core Knowledge UK series presents the knowledge and skills that should be at the core of a challenging Year 3 education, including: Familiar and favourite poems - old and new, from the beloved limericks of Edward Lear to Allan Ahlberg's whimsical 'The Answer'.
Literature from around the world - read African, Chinese and Japanese folktales; myths from ancient Greece; British classics including excerpts from A Bear Called Paddington and Peter Pan; and traditional tall tales such as 'Robin Hood and his Merry Men'.
Learning about language - learn the basic building blocks of written English, all explained with a touch of humour.
Geography of the world and Britain - explore the rivers of the world, learn about the important rivers and basins of the UK and take a ride down the rivers leading into the Humber Estuary.
World and British history - travel to Ancient Greece, visit China and Japan and explore British history from the Normans to the Elizabethan Era. Visual arts - try engaging activities while learning about line, form and symmetry; learn how to look at great architecture like the Parthenon, the Great Stupa and the Guggenheim Museum; discuss landscapes, still lifes and mythological paintings.
Music - become familiar with basic music theory, great composers, instruments and fun songs to sing including popular songs such as 'Do-Re-Me' and 'The Hippopotamus Song'.
Mathematics - challenging activities ranging from topics such as fractions, three-digit addition and subtraction, multiplication and division problems as well as a first look at equations and geometry.
Science - learn about the cycle of life and the seasons, simple machines, the wonder of the human body and more, including lots of hands-on activities and stories about famous scientists.
Information
Format: Paperback / softback
Pages: 334 pages, 450 illustrations
Publisher: Civitas
Publication Date: 17/12/2012
Category: Primary & middle schools
ISBN: 9781906837259
Also in the Core Knowledge UK series