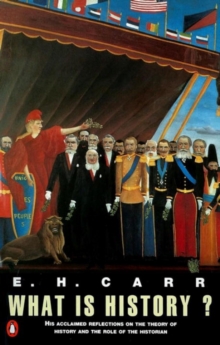 What is History?
Paperback
Description
Who is to say how things really were? In formulating a modern answer to the question 'What is History?' Professor Carr shows that the 'facts' of history are simply those which historians have selected for scrutiny.
Millions have crossed the Rubicon, but the historians tell us that only Caesar's crossing was significant.
All historical facts come to us as a result of interpretative choices by historians influenced by the standards of their age.
Yet if absolute objectivity is impossible, the role of the historian need in no way suffer; nor does history lose its fascination.
This edition includes new material which presents the major conclusions of Professor Carr's notes for the second edition and a new preface by the author, in which he calls for `a saner and more balanced outlook on the future'.
Information
Format: Paperback
Pages: 208 pages
Publisher: Penguin Books Ltd
Publication Date: 29/11/1990
Category: History: theory & methods
ISBN: 9780140135848
Free Home Delivery
on all orders
Pick up orders
from local bookshops
Reviews
Showing 1 - 2 of 2 reviews.
Review by JonArnold
27/08/2015
Going back to re-read old university textbooks for fun must be a sign of incipient nostalgia for the lost days of youth. That or masochism. I didn't get a nostalgic buzz (possibly as I was young and foolish enough to think I could get away by essentially skimming it) but reading it with age and experience was far more rewarding than giving it to an intellectually arrogant 19 year old.Carr's initial question is the springboard for six essays, transcribed from a series of lectures. It's a musing on what history is and the role it has in our society – how it actually fits neatly in with sciences, how objective a historian can be and how history tells us as much about the time it's written in as it does about the time itself. It's actually aged very well, being prescient on a number of issues and forcefully making a point of how history should be a positive force. Still, one thing is concerning– if Carr's thesis that a nation in decline harks back to golden ages and nostalgia and turns inward on itself then the UK is in a 'sick' state indeed. A fascinating starting point for anyone looking at history and historiography.
Review by LynnB
16/06/2015
This is a philosophical look at history and historians. The book is based on a series of lectures, so it has an easy to read style.Mr. Carr raises some interesting points about objectivity in historical writings, the nature of facts vs. truth and the links between the past and the future.