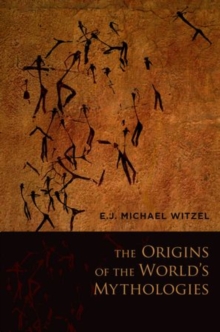 The Origins of the World's Mythologies
Paperback / softback
Description
In this comprehensive book Michael Witzel persuasively demonstrates the prehistoric origins of most of the mythologies of Eurasia and the Americas ('Laurasia').
By comparing these myths with others indigenous to sub-Saharan Africa, Melanesia, and Australia ('Gondwana Land') Witzel is able to access some of the earliest myths told by humans.
The Laurasian mythologies share a common story line that dates the world's creation to a mythic time and recounts the fortunesof generations of deities across four or five ages and human beings' creation and fall, culminating in the end of the universe and, occasionally, hope for a new world.
These stories are contrasted with the 'southern' mythologies, which lack most of these features.
Witzel's investigations arebuttressed by archaeological data, as well as by comparative linguistics, and human population genetics.
All suggest the African origins of anatomically modern humans and their subsequent journey along Indian Ocean shores, up to Australia and southern China, around 60,000 BCE.
These itinerants' early mythology survives partly in sub-Saharan Africa and points along the path - the Andaman Islands, Melansia, and Australia.
Laurasian mythology, Witzel shows, developed along this vast trail,probably in southwest Asia, around 40,000 BCE.
Identifying features shared by virtually all mythologies of the globe, Witzel suggests that these features probably informed myths recounted by the communities of the 'African Eve.' As such, they are the earliest substantiation of our ultimate ancestors'spirituality.
Moreover the Laurasian myths' key features, Witzel shows, survive today in all major religions and their multiple ideological offshoots.
Information
Format: Paperback / softback
Pages: 688 pages, 15 maps, 11 b&w halftones
Publisher: Oxford University Press Inc
Publication Date: 06/10/2012
Category: Prehistoric archaeology
ISBN: 9780199812851
Free Home Delivery
on all orders
Pick up orders
from local bookshops