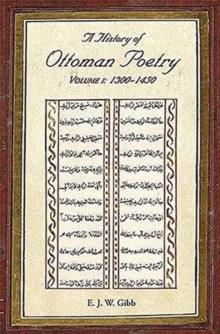 A History of Ottoman Poetry Volume I : 1300-1450
Hardback
Description
The History of Ottoman Poetry, first published in six volumes between 1900 and 1909, was the principal product of E.J.W.
Gibb's devotion to Ottoman Turkish literature. By the time of his early death in 1901 only the first volume had appeared in print.
The remainder was almost complete and was seen through the press by Gibb's friend and literary executor, the Persian scholar E.
G. Browne. The History was designed to provide the first extended account in English of Ottoman literature.
The first four volumes cover four developmental phases, largely under the influence of Persian literature, from around 1300 to the middle of the nineteenth century.
The fifth volume introduces the `New School' of Ottoman poetry produced in Gibb's own era and inspired by French models.
The sixth volume contains in Ottoman printed script the texts of all works quoted in English translation in the previous volumes.
No comparable study has appeared in English since Gibb's magnum opus.
His History of Ottoman Poetry has become a classic work which is still widely referred to and valuable for students, scholars and anyone with a general interest in Middle Eastern literature and culture. Volume I (originally published 1900, during Gibb's lifetime) begins with an introduction on the origin, character and scope of Ottoman poetry, and provides an explanation of its principal verse forms and rhyme schemes.
Gibb then discusses poets of the period 1300 to around 1450, considering this a formative era in which poetry was generally more`West-Turkish' in style and strongly influenced by local dialect than Ottoman later became.
Foremost among the poets discussed are Sultan Veled (d. 1312), son of the revered mystic Celaleddin Rumi; Yunus Emre (fl. early 1300s), a master of `rugged' mystical verse in the Turkish syllabic metre; and Suleyman Celebi (d. 1422) author of the Mevlid, a `Hymn on the Prophet's Nativity' which acquired a central place in Turkish culture through its recital annually during celebrations on the birthday of the Prophet Muhammad.
Gibb's method in all volumes is to supply biographical information on each writer, drawn primarily from Ottoman biographical dictionaries of poets, followed by English translations of some of their more significant poems and synopses of longer texts.
For all these elements, a wealth of explanatory footnotes provides extra cultural depth.
Information
Format: Hardback
Pages: 472 pages
Publisher: Gibb Memorial Trust
Publication Date: 01/01/1902
ISBN: 9780906094204
Free Home Delivery
on all orders
Pick up orders
from local bookshops
Also in the Gibb Memorial Trust Turkish Studies series