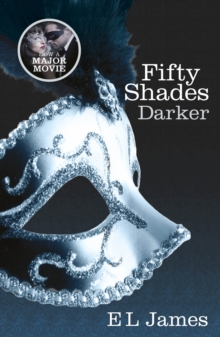 Fifty Shades Darker
Paperback
Description
Romantic, liberating and totally addictive, the "Fifty Shades" trilogy will obsess you, possess you, and stay with you for ever ...Daunted by the dark secrets of the tormented young entrepreneur Christian Grey, Ana Steele has broken off their relationship to start a new career with a US publishing house.
But desire for Grey still dominates her every waking thought, and when he proposes a new arrangement, she cannot resist.
Soon she is learning more about the harrowing past of her damaged, driven and demanding Fifty Shades than she ever thought possible.
But while Grey wrestles with his inner demons, Ana must make the most important decision of her life. And it's a decision she can only make on her own...
Information
Format: Paperback
Pages: 576 pages
Publisher: Cornerstone
Publication Date: 01/04/2012
Category: Romance
ISBN: 9780099579922
Other Formats
Paperback from £7.09
CD-Audio from £16.25
Free Home Delivery
on all orders
Pick up orders
from local bookshops
Reviews
Showing 1 - 4 of 4 reviews.
Review by tina1969
16/06/2015
Daunted by the singular sexual tastes and dark secrets of the beautiful, tormented young entrepreneur Christian Grey, Anastasia Steele has broken off their relationship to start a new career with a Seattle publishing house. But desire for Christian still dominates her every waking thought, and when he proposes a new arrangement, Anastasia cannot resist. They rekindle their searing sensual affair, and Anastasia learns more about the harrowing past of her damaged, driven, and demanding Fifty Shades. While Christian wrestles with his inner demons, Anastasia must confront her anger and envy of the women who came before her and make the most important decision of her life.My Thoughts:I wasn't going to bother with books two and three but my friend at work asked me if I wanted to go halves with her. I wasn't bothered because I thought the following books were going to be more or less the same as the first.I think that this book does have more story to it than the first one. The first one I felt was out to shock and get everyone talking which it has. I have enjoyed the second one a little more than the first simply because a story is developing. It is still a sexy book and as for the sexy bits the shock factor is out the way so I am just willing them to get on with it so I can get back to the story. I will read book three just to see how the story goes as the second finishes with a little cliffhanger, but I am not bothered with all the sexy bits, they are becoming a little tiresome now.
Review by boppisces
16/06/2015
The second book in James's 'Fifty Shades' triology. Unable to deal with entrepreneur Christian Grey's 'red room of pain' Ana has put an end to their relationship. She has started her career with a publishing house, but she thinks about overprotective Christian constantly and after a week or so is drawn back into his life. New characters are introduced: Ana's creepy boss, Jack, who has a habit of standing too close to her; and Leila, Christian's past submissive who is suffering from serious psychological issues. Christian's persistent ex Elena, the woman Ana belives corrupted a teenage Christian, is still involved in his life. An improvement on the first book with a fuller story and more indepth look at the characters. Ana's constant inner monologue is still irritating but and the reader is left wondering what will happen after it is revealed that one attempt on Christian's life has already been attempted. Okay, but wouldn't bother reading again, although I will have to finish the last book just to see what happens.
Review by claireh18
16/06/2015
I have given this 2 stars as it was so mind-numbingly boring until about half-way through. I found Ana really annoying, and Christian much in need of a better psychiatrist.There are, however, some good parts to this book, if you can read past all the author's grammatical errors (a goof proof-reader and copy editor needed!) and repetition. I was bored of the sex scenes and skimmed over them which meant i finished this book really quickly...and onto the 3rd...
Review by atreic
16/06/2015
I made the fundamental error of reading a (very witty and observant) snarky website taking the piss out of book 1 before going on to read book 2. This left me very sensitive to every single Stupid and Frustrating thing about this book, of which there are rather a lot, and entirely ruined my suspension of disbelief.Problems include:* the resolution to the last book's cliffhanger is So Rubbish. Ana has, bravely, decided that she is leaving Christian because he is too broken for her to fix. How do they get back together in the face of this? Does chance make their paths cross many months of sufferering later? Does Christian come up with some dark controlling machiavellian plan to win her back? No, after Five Days, he drops her an email saying 'I know you need a lift to your friend's art show, let me take you', she says 'yes', and then he is Sexy TM, and suddenly it's all magically back on. Pathetic, Ana!* Sex - it feels like there's less of it, and it's a bit more samey now than when it was fresh in the first book* Plot - there attempts to be more of it. In Twilight, lots of vampires running round trying to kill each other makes sense, because vampires. In Fifty Shades, it's just a bit random that crazy people with vendettas keep trying to kill Christian* Elena - I'll admit it, while I do not condone her behaviour with young!vulnerable!Christian, I was really enjoying the ambiguity of Elena as a character who had both helped to fuck him up and helped to unfuck him up. I liked her role in teaching both Ana and Christian that sometimes, the person you love can have close friends (even ex lovers) of the opposite sex, and that's OK, and perhaps even Good. But no, Ana is the perfect shining star whose wonder must not be threatened, so at the end of the book we all discover Elena is really Evil!Jealous!Elena. I am anxiously waiting, but expecting the worse, for where this goes in the third book.* Timescales. Sheesh, people! It's been about a fortnight since she interviewed him, and they're engaged already! I know the story and the book should be fast paced, but that doesn't mean the characters can't have time off scene to collect their breaths and actually have the time to grow and develop and change. I know, I know, the point is that it's wish fulfilment craziness, and even the characters know what they're doing is mad and fucked up, but it's _so_ mad now it's harder to enjoy it as sexy.* Christian's attitude to Ana is just So OMG, this is Broken, get out of there - worse for me than the first book. The controlling things he does in the first book were often right on the cusp of what I would let slide ('he bought me a car! How controlling!' Yes, kind of controlling, but kind of just rich and throwing his money around. 'He has immediately presented me with a big list of how he wants sex to work for him! How controlling!' Yes, kind of controlling, but kind of being clear up front what you want from a relationship). This time it gets worse and worse and worse ('he took me to my friend's art show, but insists we leave after 30 minutes to go out for dinner together' 'he bought the company I am working for (WTF?)' 'he won't let me go out of the house on my own' 'He tells me off for going out in dresses that are too short - that he bought for me!'.) OK, this is mellowed a bit by Ana at least noticing 'this is completely fucked up', and occassionally standing up to him, and you really do see him get a bit better, but far too often it is 'Christian demands totally ridiculous thing', 'Ana says this is mad', 'Christian seduces her', 'Christian gets 95% of what he wanted and Ana feels guilty'. Sigh. *eyeroll*.