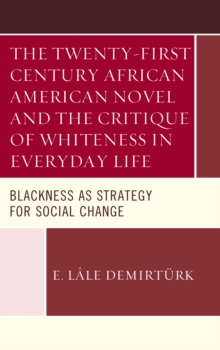 The Twenty-First Century African American Novel and the Critique of Whiteness in Everyday Life : Blackness as Strategy for Social Change
Hardback
Description
This book examines the post-9/11 African American novels, developing a new critical discourse on everyday discursive practices of whiteness.
The critique of everyday life in the racial context of post-9/11 American society is important in considering diverse forms of the lived experiences and subjectivities of black people in the novels.
They help us see that African American representations of the city have political significance in that the "neo-urban novel" explores the possibility of a black dialogic communication to build a transformative social change.
Since the real power of Whiteness lies in its discursive power, the book reveals the urgency to understand not only how whiteness works in everyday life in American society.
But it also explores how to cultivate new possibilities of configuring and performing Blackness differently, as a response to the post-9/11 configurations of the culture of fear, to produce new ways of interactional social relations that can eventually open up the space of critical awareness for white people to work against rather than reinforce discursive practices of White supremacy in everyday life.
This book explores how the multiple subjectivities and transformative acts of blackness can offer ways of subverting the discursive power of the white embodied practices.
What defines post-9/11 America as a nation that is consumed by the fear of racialized terrorists is its roots in the fear of (`uncontrollable') Blackness as excess and ominous threat in the domestic terrain through which the ideology of White supremacy has constructed for governing through Whiteness.
African-American urban novels published in the twenty-first century respond to the discursive power of normative Whiteness that regulates black bodies, selves and lives.
This book demonstrates how black people contest white dominant social spaces as sites of black criminality and exclusion in an attempt to re-signify them as the sites of black transformative change through personal and grassroots activism through their performativity of Blackness as an agential identity formation in their interpersonal urban social encounters with white people.
Hence, the vulnerable spaces of Whiteness in interracial urban encounters, as it pervasively addresses those moments of transformative change, enacted by Black characters, in the face of the discursive practices of whiteness in the everyday life.
These novels celebrate multifarious representations of black individuals, who are capable of using their agency to subvert White discursive power, in finding ways in their personal and grassroots activism to transform the culture of fear that locates Blackness as such in an attempt to make a difference in the American society at large.
Other Formats
EPUB from £97.20
Paperback / softback from £30.05
Free Home Delivery
on all orders
Pick up orders
from local bookshops