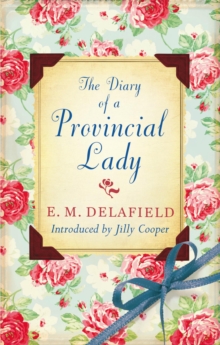 The Diary of a Provincial Lady
Paperback
Description
Behind this rather prim title lies the hilarious fictional diary of a disaster-prone lady of the 1930s, and her attempts to keep her somewhat ramshackle household from falling into chaos: there's her husband Robert, who, when he's not snoozing behind The Times, does everything with grumbling recluctance; her gleefully troublesome children; and a succession of tricky sevants who invariably seem to gain the upper hand. And if her domestic trials are not enough, she must keep up appearances.
Particularly with the maddeningly patronising Lady Boxe, whom our Provincial Lady eternally (and unsuccessfully) tries to compete with.
Information
Format: Paperback
Pages: 576 pages
Publisher: Little, Brown Book Group
Publication Date: 15/11/1984
ISBN: 9780860685227
Other Formats
Hardback from £9.85
Paperback from £7.65
Free Home Delivery
on all orders
Pick up orders
from local bookshops
Reviews
Showing 1 - 3 of 3 reviews.
Review by MikeFarquhar
16/06/2015
In total contrast to Black Man, read EM Delafield's Diary of a Provincial Lady on the train today. Written in 1930, the Diary is written by an upper-middle class English woman living in Devon, where she has the requisite household of husband, son at boarding school, younger daughter still at home, and a small staff of Governess (the very French Mademoiselle), Cook, and housemaid. As befits a woman of her time, she does not work, but runs the household and engages in suitable activities, such as the Woman's Institute and the local church.At least partly autobiographical, it's caustically written, and for the time, fairly subversive, as the Provincial Lady chafes against the limitations of her station and pours out her inner worries and disquieting thoughts about her world to her diary. It's very much written in the same style as Stella Gibbons' Cold Comfort Farm or Nacncy Mitford's Love in a Cold Climate, from roughly the same time period, and while not as absurd or surreal as that book, it's still very very funny, with a particularly dry sense of humour prevailing throughout. This is the spiritual ancestor to Bridget Jones' Diary, in more ways than one, but the Provincial Lady would have found that book quite shocking.As well as being funny though, it's also a fascinating glimpse into the period between the wars in what would these days be called 'Middle England' - that very traditional hard-core of non-urban English life that was central to people's idea of what England was.Not going to be to everyone's taste, but a great little book that had me chuckling contentedly to myself on the train.
Review by shirley8
16/06/2015
Really enjoyed this book,I laughed out loud at some of her thoughts and observations! Lovely to read she had her own bank account and continously over drawn and making regular trips to the pawnbroker to please the bank manager! The amount of time spent away from her husband was quite surprising including her trip to America on her own,very liberating for the time. Will have to read more of her books now.
Review by edwinbcn
16/06/2015
The Diary of a Provincial Lady is just the absolutely most boring book. The first 80 pages or so, are kind of OK, from the historical point of view, as the reader gets a peek into the interbellum; Naturally, nothing ever happens in the life of a provincial lady, even one with literary aspirations, so the book is a chain series of gossip + husband + reading list. The provincial lady mainly reads a lot of second, and third-rate novels from the Edwardian era to her own time.I wouldn't know what readers then or now could get out of it, except as a way of passing the time.
Also in the Virago Modern Classics series | View all