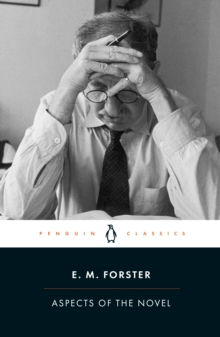 Aspects Of The Novel
Paperback
Description
E.M. Forster's Aspects of the Novel is an innovative and effusive treatise on a literary form that, at the time of publication, had only recently begun to enjoy serious academic consideration.
This Penguin Classics edition is edited with an introduction by Oliver Stallybrass, and features a new preface by Frank Kermode.First given as a series of lectures at Cambridge University, Aspects of the Novel is Forster's analysis of this great literary form.
Here he rejects the 'pseudoscholarship' of historical criticism - 'that great demon of chronology' - that considers writers in terms of the period in which they wrote and instead asks us to imagine the great novelists working together in a single room.
He discusses aspects of people, plot, fantasy and rhythm, making illuminating comparisons between novelists such as Proust and James, Dickens and Thackeray, Eliot and Dostoyevsky - the features shared by their books and the ways in which they differ.
Written in a wonderfully engaging and conversational manner, this penetrating work of criticism is full of Forster's habitual irreverence, wit and wisdom.In his new introduction, Frank Kermode discusses the ways in which Forster's perspective as a novelist inspired his lectures.
This edition also includes the original introduction by Oliver Stallybrass, a chronology, further reading and appendices.E.
M. Forster (1879-1970) was a noted English author and critic and a member of the Bloomsbury group.
His first novel, Where Angels Fear To Tread appeared in 1905.
The Longest Journey appeared in 1907, followed by A Room With A View (1908), based partly on the material from extended holidays in Italy with his mother.
Howards End (1910) was a story that centered on an English country house and dealt with the clash between two families, one interested in art and literature, the other only in business.
Maurice was revised several times during his life, and finally published posthumously in 1971.If you enjoyed Aspects of the Novel, you might like Forster's A Room with a View, also available in Penguin Classics.
Information
Format: Paperback
Pages: 224 pages
Publisher: Penguin Books Ltd
Publication Date: 30/08/2005
ISBN: 9780141441696
Free Home Delivery
on all orders
Pick up orders
from local bookshops
Reviews
Showing 1 - 2 of 2 reviews.
Review by wordygirl39
16/06/2015
Love, love, love this book. There's a reason this man's work--the whole of it--is considered "classic." He's one of the rare writers who combines humor with deep tragedy--the yin and yang of human experience. If you want to be a writer, you need this book. If you think you understand good literature, you need this book.
Review by Cecrow
27/08/2015
I hoped one of my favourite authors might have been more forthcoming on how to write quality, especially given the renown of this work. Exactly as the title promises, he shares a fairly straightforward categorization of the essential components/aspects of novel writing. He did put into words some things I only felt instinctively about those aspects, lending my instincts some credence, and labelled obscure others I hadn't identified. I felt the last chapter was strongest where he defines pattern and rhythm, but mostly for its good analysis of Henry James. I don't rate myself anywhere above the 'pseudo-scholar' these lectures were aimed at, but I'm sorry there wasn't more quantity of takeaway. Or maybe I'm just too dense to see it yet.