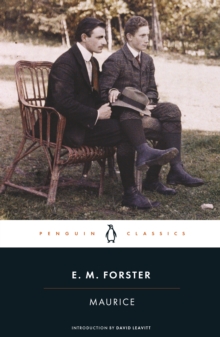 Description
An astonishingly frank and deeply autobiographical account of homosexual relationships in an era when love between men was not only stigmatised, but also illegal, E.M.
Forster's Maurice is edited by P.N. Furbank with an introduction by David Leavitt in Penguin Classics.Maurice Hall is a young man who grows up confident in his privileged status and well aware of his role in society.
Modest and generally conformist, he nevertheless finds himself increasingly attracted to his own sex.
Through Clive, whom he encounters at Cambridge, and through Alec, the gamekeeper on Clive's country estate, Maurice gradually experiences a profound emotional and sexual awakening.
A tale of passion, bravery and defiance, this intensely personal novel was completed in 1914 but remained unpublished until after Forster's death in 1970.
Compellingly honest and beautifully written, it offers a powerful condemnation of the repressive attitudes of British society, and is at once a moving love story and an intimate tale of one man's erotic and political self-discovery.In his introduction, David Leavitt explores the significance of the novel in relation to Forster's own life and as a founding work of modern gay literature.
This edition reproduces the Abinger text of the novel, and includes new notes, a chronology and further reading.E.
M. Forster (1879-1970) was a noted English author and critic and a member of the Bloomsbury group.
His first novel, Where Angels Fear To Tread appeared in 1905.
The Longest Journey appeared in 1907, followed by A Room With A View (1908), based partly on the material from extended holidays in Italy with his mother.
Howards End (1910) was a story that centred on an English country house and dealt with the clash between two families, one interested in art and literature, the other only in business.
Maurice was revised several times during his life, and finally published posthumously in 1971.If you enjoyed Maurice, you might like Forster's A Room With a View, also available in Penguin Classics.
Information
Format: Paperback
Pages: 272 pages
Publisher: Penguin Books Ltd
Publication Date: 28/07/2005
ISBN: 9780141441139
Free Home Delivery
on all orders
Pick up orders
from local bookshops
Reviews
Showing 1 - 2 of 2 reviews.
Review by li33ieg
16/06/2015
Probably the most revealing out of all of this author's books, Maurice was one of the first novels ever published that focuses its attention on homosexuality as a fact of life. It's particularly interesting (I think) to recall that it was published posthumously. Forster doesn't appear to have had an ax he wanted to grind; he wanted to celebrate the quality of love that can exist between two men as partners and to invite others to understand that the complications in same sex relationships might be the same as the complications in opposite sex relationships - i.e. concerns about image and how others will react to one's choice of partner.
Review by soylentgreen23
16/06/2015
An ex-girlfriend loved Forster, but, thanks to her religious sentiments, had mixed feelings towards gays and was never comfortable in their company. I wonder how she would have felt if she had known more about Forster, or had come across 'Maurice', an openly gay romantic fiction that was not published in the author's lifetime. The story itself is well-written, though the language now seems to have aged awfully; I cannot remember having seen the word 'rot' used quite so often in speech. Looked at in a different way though, as a text that shows society's attitudes to sex and 'Hellenism' in the years around Wilde's arrest, then this is thrilling stuff.