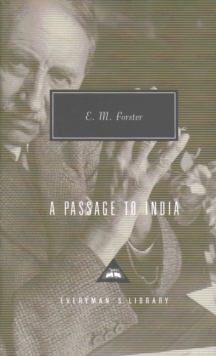 Passage to India,A
Hardback
Description
Set in British India in the 1920s, this book looks at racial conflict.
The characters struggle to overcome their own differences and prejudices, but when the Indian Dr Aziz is tried for the alleged assault of Adela Quested even the strongest inter-racial friendships come under pressure.
Information
Format: Hardback
Pages: 282 pages
Publisher: Everyman
Publication Date: 01/09/1991
ISBN: 9781857150292
Other Formats
Paperback from £6.65
Hardback from £12.95
Free Home Delivery
on all orders
Pick up orders
from local bookshops
Reviews
Showing 1 - 1 of 1 reviews.
Review by BayardUS
16/06/2015
On the positive side, E.M. Forster's A Passage to India is populated by many complex and realistic characters. Not just main characters like Fielding, Mrs Moore, Miss Quested, and Dr. Aziz, but even rather minor characters like Godbole are fleshed out and given depth. Dr. Aziz especially is made into a fully realized character by Forster, as he not only has his virtues and vices, but numerous misfortunes and failings spring from them both so that he makes an interesting focal point for the narrative. The second half of the book would have been rendered both less entertaining and less effective if Dr. Aziz was a purely virtuous character, but fortunately for readers the narrative doesn't make Aziz anything close to an angel. It does succeed in making him feel like a real person. This realistic feel is also one of A Passage to India's main strengths. While the events that occur at around the halfway point of the book relies on an improbable series of events and coincidences, Forster still manages to write it in a way that doesn't feel artificial. Writing obviously manufactured situations that don't feel artificial is an impressive accomplishment.<br/><br/>On the negative side, Forster's writing is frequently boring. Even when he's writing about exciting events like a car crash or a parade or a riot he somehow manages to create a passage that is utterly without energy or tension. This is a short book, but the writing did so little to engage me that it felt like a substantial tome. Another negative is that, while I complimented the book's cast of multidimensional characters, that multidimensionalness doesn't extend to many of the British occupiers of India. Most of them are just racist buffoons, even the marginally less shallow Mr. Turton has his perspective and the reasoning behind it explained in a single sentence. Ronny is the pro-occupation character given the most development, and even he feels like a half-baked sketch. He delivers weak arguments and oscillated between "bland" and "jerk" as the story required. <br/><br/>On the stranger side, two things: the first is that I found it to be a strange choice for Forster to include as a plot point caves that seemingly mess with British people's brains. One cave basically turns someone into a nihilist within ten minutes when previously they seemed pretty well adjusted, another cave causes an echo to plague someone's mind for months. Strange stuff. Another thing on the stranger side to note is that while Forster was obviously trying to promote tolerance and denounce the British occupation of India with this book, it's not clear how similar he thinks European and Indian people are: Forster identifies "suspicion" as some sort of inborn quality for "orientals" and it isn't clear if he thinks that there can be true understanding between people from such different cultures.<br/><br/>While A Passage to India draws into question whether understanding across different cultures is possible without putting forth an answer, Forster ends the book with a clear statement that friendship between people of different cultures is possible (although such friendship may be plagued with misunderstandings). To reach true friendship, though, the occupier-occupied relationship would have to end. A good message, though I could have done without Forster spelling it out for me so bluntly. For a book that also explores understanding of different cultures but which is far more engaging I recommend The Other City by Michal Ajvaz. A Passage to India is a bit dull in comparison, though not a bad book by any means- you just have to be able to deal with the bog of Forster's prose.