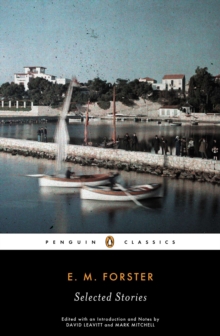 Selected Stories
Paperback
Description
Although he is best known for his exquisite novels, E.M.
Forster also wrote remarkable short stories. He referred to his stories as `fantasies' and his attraction to myth and magic is apparent in many of them.
Like his novels, the stories - whether they are set in Italy, Greece, India, and other places Forster visited, or in England itself - contrast the freedom of paganism with the restraints of English civilization, the personal, sensual delights of the body with the impersonal, inhibiting rules imposed by society.
Rich in irony and alive with sharp observations on the surprises life holds, the stories often feature violent events, discomforting coincidences, and other disruptive happenings that throw the characters' perceptions and beliefs off balance.
This volume includes all twelve stories published during Forster's lifetime.
Information
Format: Paperback
Pages: 224 pages
Publisher: Penguin Books Ltd
Publication Date: 01/03/2001
ISBN: 9780141186191
Free Home Delivery
on all orders
Pick up orders
from local bookshops
Reviews
Showing 1 - 1 of 1 reviews.
Review by bezoar44
16/06/2015
This collection combines stories from the Celestial Omnibus (1911) and the Eternal Moment (1928). Nearly all the stories present a main character who is an outsider, oppressed by convention, who is rescued (or almost rescued) by passion, chaos, or untamed nature. However, there's a significant shift in tone between the two sets of stories. The earlier stories are more optimistic. In them, Forster often invokes nature as a figure for transcendent value, much the way the C.S. Lewis and J.R.R. Tolkien do in their fiction a generation later. But while Lewis and Tolkien use mythological tropes to depict moral order holding malicious chaos at bay, Forster reverses sides, presenting chaotic nature as a liberator that overturns smothering social expectations. In every story, the uncanny is a refuge, not a threat; Forster's Bacchae never tear the children limb from limb, but welcome protagonists to a new and happier world. At their sharpest and most ironic, the early stories skewer characters so blinkered by convention that they can't embrace nature, passion, or freedom -- but there's never a doubt that the Kingdom waits for those who have eyes to see.The later stories are much darker. In 'The Machine Stops' - a science fiction fable that echoes H.G. Wells' - nature overthrows society too late to save the main characters. Even then, humanity will survive to build a better world. In 'The Point of It', 'Mr. Anderson', and 'Co-ordination', conventional views of virtue (and of the afterlife) are turned on their head in the service of a moral humanism. But while these heroes are all redeemed, none are spared loneliness or sorrow along the way, or perhaps forever. That's the cost of wisdom, and it's a cost that replaces the painless operation of wonder in the earlier stories.Homosexuality is not an explicit theme in any of the stories, though it's certainly possible to map it onto some. For example, in 'The Curate's Friend', a faun destroys a clergyman's passionless marriage, freeing him for a much happier bachelorhood whose origin he cannot reveal: "for if I breathed one word of that, my present life, so agreeable and profitable, would come to and end, my congregation would depart..." Still, while Forster's closeted sexuality clearly influenced his worldview, to read these stories with that narrow focus misses the point: they are about healing from alienation of all kinds; about following the beat of a different drummer to a better and quite unconventional life.