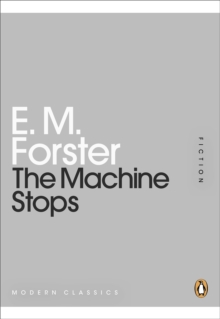 The Machine Stops
Paperback
Description
'"You talk as if a god had made the Machine," cried the other. "I believe that you pray to it when you are unhappy.
Men made it, do not forget that."'E.M. Forster is best known for his exquisite novels, but these two affecting short stories brilliantly combine the fantastical with the allegorical.
In 'The Machine Stops', humanity has isolated itself beneath the ground, enmeshed in automated comforts, and in 'The Celestial Omnibus' a young boy takes a trip his parents believe impossible.This book contains The Machine Stops and A Celestial Omnibus.
Information
Format: Paperback
Pages: 96 pages
Publisher: Penguin Books Ltd
Publication Date: 01/02/2011
Category: Classic science fiction
ISBN: 9780141195988
Free Home Delivery
on all orders
Pick up orders
from local bookshops
Reviews
Showing 1 - 2 of 2 reviews.
Review by TPauSilver
16/06/2015
This volume consists of two short stories: The Machine Turns is a tale of a dystopian future where mankind if reliant entirely on the machine which allows them to communicate around the world, brings them clothing, brings them foods, plays them music on demand etc, all without them even leaving their own rooms. Human contact has been completely obliterated has as original experience. If it was written today it would be a preachy story about why the internet is evil but written when it was it's fascinating. The story is divided in to parts and the final part is too brief, I would say. Society collapses and years pass including a large shift in the social landscape in the space of a few pages. The Celestial Omnibus is the story of a young boy who finds an omnibus which takes him to a magical world full of literary characters. A friend of his family accompanies him there but can't believe.
Review by RobertDay
16/06/2015
This small volume contains two stories; 'The Machine stops' (1928) and 'The Celestial Omnibus' (1911)."The Machine stops" is a dystopian tale of humanity's underground automated future life, isolated from each other save via telecommunications; and what happens when they turn their collective backs on human interaction and the pursuit of what might in those days have been called the "practical arts". In the end, society breaks down, the Machine stops, and all die (except for isolated groups of humans who actually live on the surface). In 1928, this probably seemed like almost pure fantasy; today, it's not difficult to read it as a cautionary allegory of our modern situation.'The Celestial Omnibus' is a slight tale of a little boy who discovers a mysterious bus that takes him to a realm of fantasy where the figures of myth and art live and have discourse. A doubting adult accompanies him, and his doubts are his downfall (literally). It is slightly reminiscent of Saki, with whom it was contemporary.